---
Cyclists and drivers ought to co-exist on the roads, but sometimes it's problematic, given that one can't always see the other coming. Jaguar is looking to use its considerable smarts to save the lives of cyclists on the road with a new system called Bike Sense that will "tap" drivers on the shoulder when there's a cyclist manoeuvring around the vehicle.
---
Jaguar Land Rover says they are developing a 360 Virtual Urban Windscreen that "will allow drivers to get a complete, unhindered view of the road." I can't wait for this to be real and standard in every car, although it's probably still a long time away. The best feature: Follow Me Ghost Car navigation.
---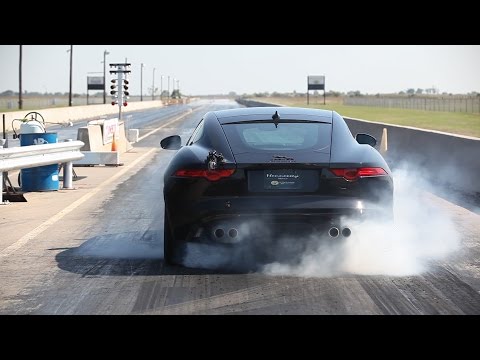 Video: We've already pined over the beastly sound of the Jaguar F-Type Coupé, but this is something else. John Hennessey got hold of one of the gorgeous coupés and gave it a tune. Now the thing produces 623 horsepower and one hell of a noise.
---
---
Video: I wasn't born in 1963, and it's a safe bet that more than a few of you weren't either. What was born in the early '60s, though, was a legend: a super-lightweight version of the amazing Jaguar E-Type, designed purely for racing. Only 12 were built, but 18 of them were already planned when project was abandoned. Thankfully, Jaguar is now restarting the project in our time, producing the final six Lightweight E-Types. Here's what they'll look and sound like.
---
Want to know what it's like to drive the new $120,000 Jaguar F-Type Coupe without shelling out the cash? Chris Harris takes the beast around a beautiful road course and a cracking track in this video review. The big question remains, however: is it really better than a Porsche 911?
---
The Superbowl doesn't kick off until 2 February, but there's plenty of distance to cover on the hype train before now and then as Jaguar can attest to. Its teaser for the Superbowl is up already, centring on great British villains. Forget all that, and click on this just to watch the amazing Jaguar F-Type race a helicopter gunship.
---
Sweet. Jesus. Just listen to this thing.
---
The boffins at Jaguar have been doing some amazing work lately. No longer is it just a factory in the Midlands of Britain for boring wood-laden sedans: it's an engineer's wet dream. Meet the Project 7: a one-seat racer that makes a noise so good you'll think about selling your house just to buy one.
---