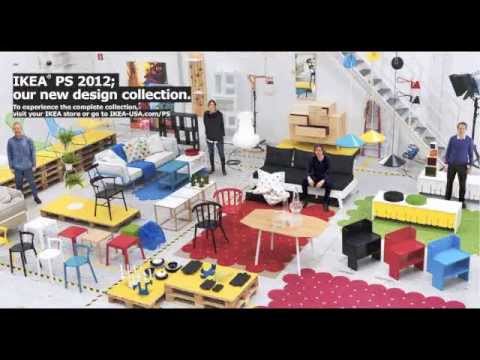 Whether you love IKEA for being a one-stop shop to fill out your home with a seemingly endless inventory of knick knacks or hate the big-box shop for its self-destructing furniture and not-so-easy instructions, the IKEA catalogue is probably the most printed book after the Bible. But what is IKEA hiding in its impeccably decorated pages? This video hilariously exposes it.
---
The real thing that's frustrating about building IKEA furniture isn't the little screws or the instructions. It's the person who's helping you. They misunderstand directions, hum Rihanna songs and kick the last dowel under the fridge by accident. And you can't say anything because they're doing you a favour. So Italian researchers showed their robot how they wanted it to assist in building an IKEA table.
---
IKEA's furniture isn't just cheap and easy to transport, it's easy to hack too, with sites like IKEA Hackers showcasing some of the best modifications. But none can top this hack by Andreas Bhend and Samuel N. Bernier that converts a couple of Ikea Frosta stools into a pedal-less bike — or draisienne if you really want to get technical.
---
Google's Map data is generally held to be the best around, but not so much once you're off the streets. If you're in (mostly) New South Wales or Victoria, though, you've now got a new set of tools at your disposal, as Google's announced it's offering indoor maps for Google Maps For Android covering more than 200 locations across both states, as well as just a few from other states.
---
The Expedit bookshelves and Lack tables have to be some of IKEA's most popular products. I should know — I own a piece from both series. As such, the internet is stuffed full of mods for these particular items. Usually, such mods err on the side of increasing practicality. This one, however, is all about style.
---
By now, energy-conscious and cash-conscious people probably know it's a good idea to use compact fluorescent or halogen bulbs instead of incandescents. But IKEA wants to help move the needle further and faster towards energy-efficient lighting: the company says that by 2016 it will only sell LED lights.
---
There's about as much science here as there isn't blatant product placement, but what do you expect from a promotional IKEA video? I was prepared for the worst when I clicked the play button, but was pleasantly surprised by its solid use of humour and pseudo-informative content.
---