"Hardhome", the latest instalment of Game of Thrones, was rather intense (spoiler warning), especially considering the slower pace of the episodes that came before it. What will stick with most is Hardhome's final sequence, which understandably had a lot of work put into it by the writer, director and particularly the set builders. Spoilers for the TV show from this point onwards!
---
2.2 million illegal downloads in 12 hours: That's the piracy world record the latest Game of Thrones episode set last week.
---
---
A fascinating examination of the HBO "static sound" in Playboy got us thinking about the sounds we hear that trigger a conditioned response. HBO's now-famous static primes the brain to expect the start of a show immediately thereafter. What other noise gets you going?
---
---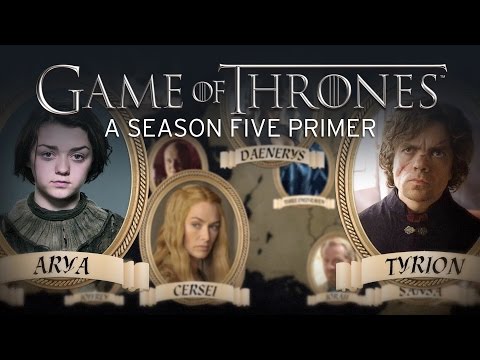 Game of Thrones is coming back for Season 5 this Sunday, April 12. Do you remember everything that happened in seasons 1 through 4? Probably not since you probably don't even know how to pronounce all the character's names. Catch up with everything you need to remember before the premiere in the video below
---
Game of Thrones might be HBO's hottest property and it has author George R R Martin to thank (as well as an amazing crew and ensemble cast). It appears the cable network is keen to get more out of Martin beyond his fantasy works, with reports suggesting the writer is cooking up a science fiction series for it.
---
Game of Thrones' fifth season is less than two months away, and if you're looking for a way to pass the time you'll be pleased to hear that the last season has just hit store shelves on DVD and Blu-ray. If you haven't watched it yet, get on board! To celebrate the release, two of the show's most interesting characters have shared a few thoughts on the filming and future of the hit series. Spoiler warning!
---
Video: In the lead-up to the next season of Game Of Thrones, HBO has remastered the final two episodes of season four to play in IMAX. There's a bit of a hype trailer for it now up on YouTube, and it looks awesome.
---