Loading page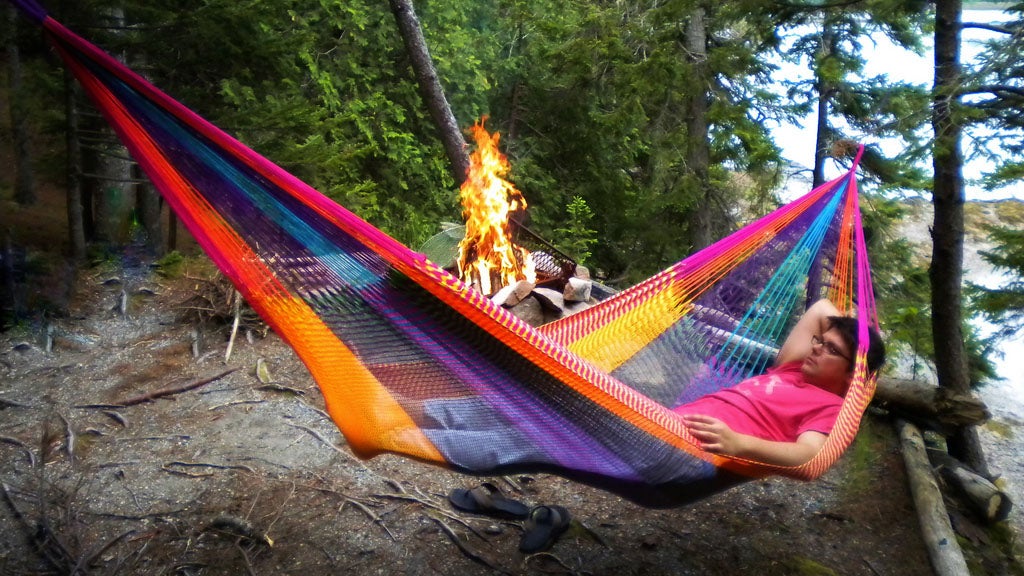 ---
A stained wood Adirondack chair can class up any deck, and it turns out a stained wood hammock can do the same for a backyard. This impressive creation, called the Para Hammock, still features an intricate web of cords (in this case, strong nylon parachute cord) — but here they're used to support over 700 tiny tiles made of walnut wood. So the whole thing flexes and undulates like a rope or fabric hammock, but provides a slightly sturdier spot to stretch out.
---
Laying in a hammock while wrangling a simple book is often a challenge, which explains why hammocks replacing desks in offices never caught on. Here's a nice compromise though: A compact hammock for your feet that hangs under your desk and raises or lowers to put you in a working or slacking mood as needed.
---
There will never be another fight over who gets to lay in the hammock with this monstrosity strung up in your backyard. The Mega Hammock requires you to find at least four nearby trees (or cranes) for hanging, but when it's up it looks like it can easily support a group of at least 10 loungers — plus a toddler or two. But due to weight restrictions, it maxes out at around three adults.
---
Rolling around in a big grassy field and gently swinging in the breeze on a hammock come together perfectly with Studio Toer's new Field Hammock. Made from water and UV-resistant synthetic fibres, this hammock doesn't feature actual grass sod, unfortunately. But the experience should be close enough to the real thing, without the pain of having to weed, mow or water your new favourite place to relax.
---
When you think of everything you really need for a weekend of camping, what comes to mind? Food? A change of clothing? A guitar? Wrong, wrong, wrong. All you really need is a comfy place to nap away the hours. So Nick Scroggs and Fred Bane created the HackedPack, a backpack featuring the most important camping accessory already built-in: a hammock.
---
---
No one's ever called the hammock industry out on false advertising, but the image of someone comfortable napping in a net suspended between two trees is a lie. Finding your way in and out of a sagging hammock is an ordeal equal to mounting Everest, and once you're in, you're swallowed up by netting that's slowly leaving its imprint on your bare skin. So if the bizarrely shaped Sky Bed sleeping hammock delivers on its promises, it could revolutionise how we all spend long weekends.
---
Hammocks can be one of the most comfortable places on Earth to rest your head. But climbing in and out of them can be a challenge — a challenge that's made dead easy with this incredibly comfortable-looking Koala 45 bed.
---
Loading page