Just three months after hacks by China's People's Liberation Army came to an abrupt halt, the country is once again attacking US targets, according to the New York Times. Hacks on organisations like the Wall Street Journal and the New York Times ceased three months back when it came to light that the perpetrators had stolen data from American companies and government agencies.
---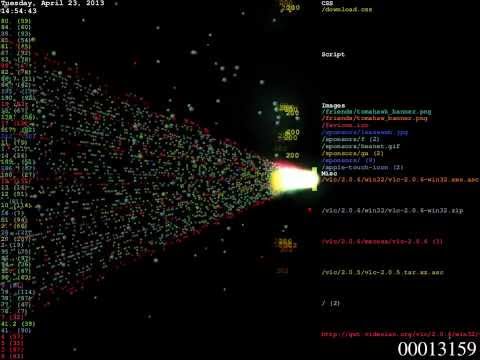 When hackers do cyber-battle, there isn't much to see. Maybe you'll wind up on a crashed website, but the real carnage is happening behind the scenes, perpetrated by a diffuse army of computers a world away. This is what it looks like.
---
As you may be hopefully unaware, today is Alice Day, a day inspired by Lewis Carroll's debated sexual attraction to Alice Liddell, Alice In Wonderland's very underage and very real counterpart, where proud paedophiles come together in celebration of their disorder. So it's a beautiful day for a NAMBLA takedown. And Anonymous was happy to answer the call.
---
Poor Bitfloor. It just can't catch a break. After recovering from a serious hack where criminals made of with some sizeable loot, the Bitcoin trading floor has just had its US accounts closed, meaning it can no longer guarantee trades made at the exchange.
---
Pirate Bay cofounder Gottfrid Svartholm Warg has been charged on suspicion that he hacked into a variety of companies, as well as fraudulently withdrawing money from the Swedish Nordea bank. Prosecutors claim he — along with three others — hacked IBM mainframes belonging to tax firm Logica and the bank.
---