In a book called Branding Terror, Francesco Trivini Bellini and former United Nations counterterrorism analyst Artur Beifuss compiled the logos and brand identities of terrorist organisations "from al-Qaeda to the Real IRA" and analysed them as they would any logo. It's fascinating to approach the identity of the terrorists from a graphic design perspective.
---
What is there to even say? Joerg Sprave dreamed up a slingshot that shoots glass ashtrays and has a broken beer bottle attached as a bayonet. It's all pretty legit.
---
Bill Gates has posted a $US100,000 bounty to the person or team that finds a way to improve the age-old design of the condom. That includes "designs that are easier to properly apply", which inspired our favourite weapons designer, Joerg Sprave to apply his expertise in slingshots to the problem.
---
Not surprisingly, the Nabisco folks weren't entirely impressed with Joerg Sprave's brilliant Oreo-splitting pump action slingshot and took his video down. So, as an act of revenge, Joerg has added another pump action weapon to his arsenal designed to decimate a box of cookies. This time he's also provided the plans and instructions needed to build your own.
---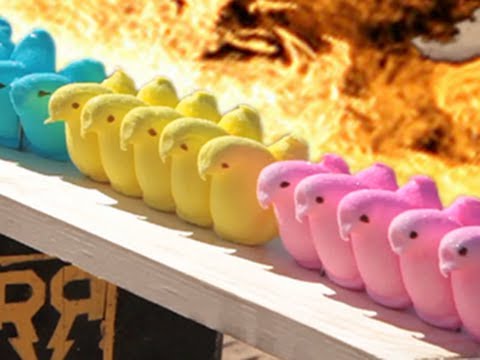 You probably never wondered this before but the internet is always about answering questions you never knew you had. Like, how many Cadbury Easter Eggs can a .50 cal rifle shoot through? Rated R on YouTube decided to give it a try and blasted through your favourite Easter treats so you don't have to.
---
After getting teased with the trailer for Click. Print. Gun., Motherboard's documentary on the 3D-printed gun movement, we finally get to watch the whole thing. The doc takes a look at 25-year-old law student Cody R. Wilson and how he's been building weapon parts with a 3D printer.
---
Vice Motherboard just released a trailer for Click. Print. Gun., its upcoming documentary on 3D-printed guns. You get to see a glimpse of the terrifying future that is having access to guns and gun parts that you can just click and print.
---
A great man once said that the best kind of gun is the one you only have to fire once. That man was Tony Stark, and he is the world's greatest weapons manufacturer. The only problem is that he's also fictional. Despite the fact that the Iron Man himself doesn't exist, that doesn't mean that awesome weapons from TV and movies don't exist. These are the best weapons that were inspired by movies and TV.
---
If knowing you're going to wake up on time for work helps you sleep better, then slap two rounds of AAA batteries in this pistol-shaped alarm clock and stash it under your pillow. When it's time to wake from your slumber, it gently vibrates you back to reality, and a built-in projector lets you pull off amazing quickdraw time checks all night long.
---