Loading page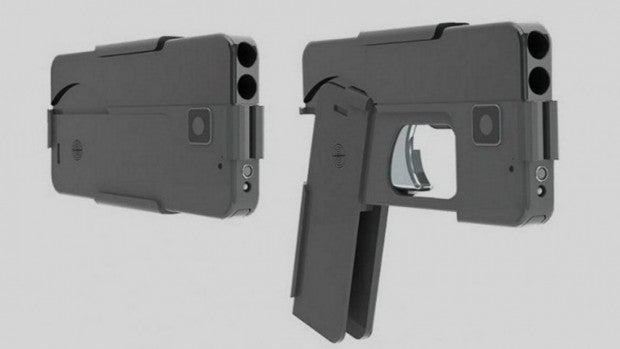 Given the number of people shot by police every year because they were reaching for a "suspicious object", you might think that disguising firearms as everyday objects is a bad idea. But US company Ideal Conceal disagrees — a double-barrelled .308 iPhone is exactly what we need to ensure our safety and freedom.
---
Video: Hmm. That's not supposed to happen like that. And yet this gun safe — a GunVault GVB1000 approved by the California Department of Justice that uses a biometric fingerprint sensor to unlock itself — can be easily opened with just a paperclip. It's a method that simply involves tricking the bypass lock to open the latch.
---
Originally unveiled at last year's Toy Fair, Nerf is expanding its Rival line this year first with the fully-automatic KHAOS MXVI-4000 we brought you back in January, and now the pump action ATLAS XVI-1200 that fires two rounds at your target with every squeeze of the trigger.
---
Back in early 2014, Nerf introduced its first blaster with an integrated video camera — the N-Strike Elite Cam ECS-12 Blaster — for recording your attacks on unsuspecting victims. Two years later we now have a follow-up with the N-Strike Modulus Battlescout ICS-10 that finally makes the camera removable.
---
Video: No one should ever have to face the other end of a gun barrel. But if you find yourself in such a situation, let's all hope that it's underwater. Here's our favourite physicist Andreas Wahl proving how the velocity of a bullet slows down like crazy when it's fired underwater with a lovely visual experiment. The bullet nosedives after getting shot and only travels about a metre. If you're more than like 2m away from the rifle, you'd be fine.
---
Loading page