Last week, a gun shop in California introduced a new addition to its stock: A .22-calibre pistol that only works when the user is wearing the accompanying RFID-enabled watch. It's being heralded as the "iPhone of guns".
---
Guns are terrifying, especially ones like this fully-automatic assault rifle. But in slow-motion, something weird happens: it's almost beautiful to look at, like this one from The Slow-Mo Guys.
---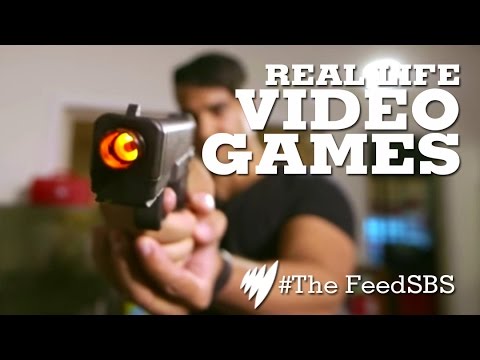 We've already taken a good look at the folks at IRL Shooter and what they're doing to bring zombie apocalypse games to real life, but we've never managed to get a hands-on go with their equipment. The folks over at SBS2′s The Feed did, however, and it looks amazing.
---
The US Transportation Security Administration screened 638,705,790 passengers in 2013. As as we learned last year, if you look deeply within the possessions of that many people, you're gonna find some weird stuff. Lots of weird stuff. Here's a rundown of the craziest objects TSA found in 2013.
---
It's a new gun industry invention: a 50-round five-magazine part for the AR-15 semi-auomatic air cooled rifle. I can't understand how can this be legal in NY or anywhere else*. Just look at the description from The Truth About Guns — you can't miss it:
---
Russia is developing weaponised ground drones, including some big amphibious models like the one you can see here. Add the thousands of combat air drones from many nations already flying through the world and it's not crazy to think in a full robotic war happening before 2020 somewhere in the world.
---
Rubber band gatling guns are not a new invention, but they keep getting better. The latest and greatest iteration from 18-year-old Ukranian design student Alex Shpetniy fires a startling 14 rounds per second from its 16 barrels. That's 672 shots in total. You can do a lot of damage with 672 shots. And it's completely made of wood! Handsome.
---