The recent Charleston murders have renewed the sporadic debates over whether gun control might have prevented this latest of tragedies.
---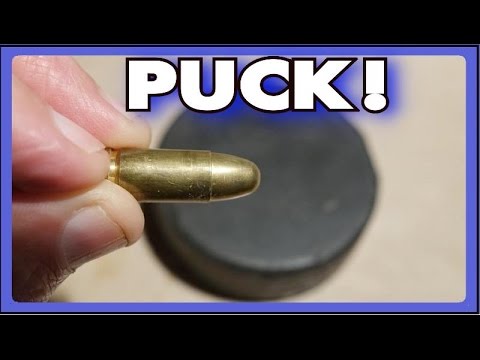 Adamantium aside, the hockey puck is the strongest material on Earth. That's only a little bit of an exaggeration since we've seen it survive liquid nitrogen, take on the vaunted red hot nickel ball and even put up a respectable fight against thermite. But is the puck bulletproof? Should we just wear hockey puck bulletproof vests now?
---
Although it's apparently been hard to keep the new models a secret, Mattel continues to expand its BOOMco line by leaps and bounds. The folks at Blaster Labs first spotted the new BOOMco Breakflip while it was still just a sketch at Mattel's offices, but official product shots and info have apparently been leaked by Amazon.
---
Video: Watch as we slow down time to see this guy fire off 20 bullets in just 1.5 seconds from two double-barrelled pistols. It's a ballistics ballet that looks almost unreal at certain angles. The top-down look of the guns firing is especially cool to see, like a first-person shooter video game view only in real life.
---
The Hunger Games' Katniss Everdeen helped reinforce the idea that young women don't have to wait for a knight in shining armour to come and rescue them; they can instead pick up a weapon and be the hero themselves. But instead of reaching for a bow and arrow, Nerf's Rebelle line wants them to reach for its new Secret Shot that hides a four-shot blaster inside a useless, but arguably fashionable, accessory.
---
It's three years since the files to 3D-print a gun were published online by Cody Wilson. Soon after he received a letter from the US State Department demanding the files be removed from the internet — and now he's fighting that under the argument of free speech.
---
You've probably never fired an M4 carbine. Until a couple weeks ago, I hadn't either. But at a recent DARPA demo day, I loaded a magazine (also a first for me), snuggled up to the deadly assault rifle, and looked through one of the most technologically advanced smart scopes ever built. Then I pulled the trigger.
---