Loading page
Video: The new world's longest golf club is 6.87m end-to-end, shattering the previous record of 4.37m. Its inventor, Michael Furrh, also typically pulls muscles in his back, legs and both arms just from swinging it. Because lifting even a small weight with such a long pole is so freaking difficult that it was part of the training regimen in old Kung Fu movies.
---
---
Golf is a dying sport, and country club memberships are seen as an elitist relic of the past. But cultural changes are only one reason golf courses are falling out of favour: The chemical-laden, water-guzzling greens are especially irresponsible for areas hit by drought. Here's an idea from Japan for those sunny green fairways: Use them to generate solar energy instead.
---
Video: Golf balls are really, really weird. Especially the old ones used over a hundred years ago. The dimpled shell can hide things like goose and duck feathers, wound rubber and all other sorts of colourful and bright polymers and rubbers and plastics. The current balls are super fancy, I wish each golf ball still hid the rubber that looks like tobacco leaves.
---
If you've been paying attention, you know that insides of golf balls are unexpectedly beautiful — like psychedelic bullseyes or surreal alien planets. But what is all that colourful stuff made of? As this video from Wired shows, golf ball is a serious piece of technology crammed into a mere 46g.
---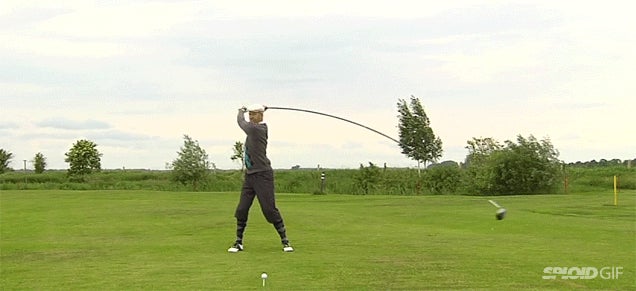 I don't where people come up with the ideas to do these things sober, but if you were ever wondering what the the Guinness World Record for world's longest golf club was, the answer is 4.4m. Karsten Maas from Denmark used the club to drive the ball about 165m.
---
George and Wesley Bryan turn the stodgy old game of golf into an extreme sport with their wacky trick shots. They're so well-timed and precisely coordinated, you'd probably lose track of that little white ball with your naked eye. Thank goodness for GoPro and slow-mo footage.
---
Loading page