Video: I don't care that The Masters is a tradition unlike any other because I know a mini golf version of the illustrious golf tournament would be way more fun to play and so much more hilarious to watch. Imagine Tiger getting screwed over by the windmill course. Or Phil mucking up the castle shot. It'd be like Happy Gilmore in real life. Simon Connor spliced golf highlights from the Masters with traditional mini golf courses and it's perfectly goofy.
---
Researchers at UC Irvine have determined that golfers who can't keep their shots out of the rough might actually be responsible for wildfires in California in recent years. Specifically, certain clubs made from a titanium alloy have been found to produce sparks up to 3,000 degrees Fahrenheit — more than hot enough to ignite dry foliage — when they make contact with rocks and stones in the rough.
---
Excuse the portrait mode video, but this golf trick shot is so impressive that we can ignore the blatant disregard of proper mobile phone video-recording etiquette. Here's what goes down: the guy behind hits a golf ball to the guy in front who swings and hits the same ball without the ball ever touching the ground.
---
Unless you're a doctor, retired, or the kid of someone who already plays, golf seems like an impossibly boring undertaking. Its only redeeming factor is tooling around a course on a golf cart, or even better, this electric-powered skateboard that's strong enough to carry you and your clubs.
---
It hasn't taken Garmin long to announce a successor to its Approach S2 and S3 golf watches announced earlier this year. But the latest edition to the lineup adds a feature that makes the S4 a must-have upgrade: Bluetooth, allowing the watch to relay notifications about incoming calls, emails and texts while you're battling to make par.
---
Competition breeds innovation, especially in sports broadcasting. Think about Australian Cricket in the 1980s. Or today's multi-billion dollar battle for sports rights and viewer experience bragging-rights between networks owned by ESPN, Fox, ABC and NBC. American sports take on-screen stats and graphics to an obsessive level. Here we look at some of our favourite tech.
---
---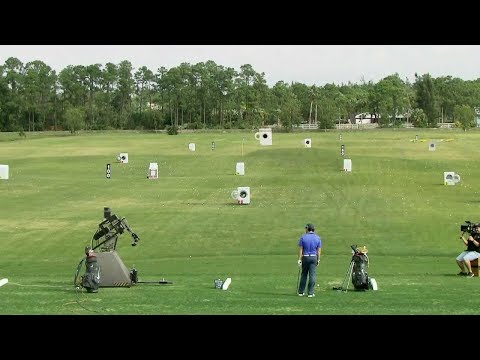 Rory McIlroy is quite something when it comes to the world of whacking a tiny ball with a big metal stick. He's a world-beater, but can he beat the best golf robot on the planet?
---