If you've been paying attention, you know that insides of golf balls are unexpectedly beautiful — like psychedelic bullseyes or surreal alien planets. But what is all that colourful stuff made of? As this video from Wired shows, golf ball is a serious piece of technology crammed into a mere 46g.
---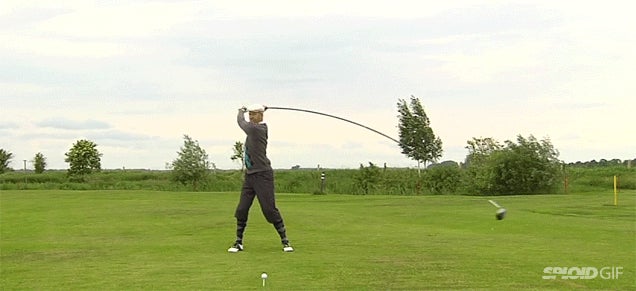 I don't where people come up with the ideas to do these things sober, but if you were ever wondering what the the Guinness World Record for world's longest golf club was, the answer is 4.4m. Karsten Maas from Denmark used the club to drive the ball about 165m.
---
George and Wesley Bryan turn the stodgy old game of golf into an extreme sport with their wacky trick shots. They're so well-timed and precisely coordinated, you'd probably lose track of that little white ball with your naked eye. Thank goodness for GoPro and slow-mo footage.
---
If you make it to the top of La Rhune, a 900m tall mountain in the Pyrenees between France and Spain, you can look up and out to the natural panorama: peaks and valleys stretching unobstructed into the distance. Or you could look down to the playful Panorama: an eight-hole goofy golf course at your feet.
---
Video: You would think that you could only do so much with golf trick shots but David Kalb, trick shot extraordinaire, takes it to another level. He rigs his trick shots so they have to be absolutely perfect because they eventually turn into Rube Goldberg machines that can make hot dogs and create flaming watermelon heads. Watch.
---
Shooting down a flying drone is challenging even for machine gun-wielding sharpshooters. But professional golfer Keegan Bradley just made it look easy, swatting a DJI Phantom out of the sky with just a well-aimed golf ball. Thankfully, the quadcopter was carrying a GoPro, so we could see the whole thing unfold. Poor drone.
---
Mastering the perfect golf swing is a lot harder than it looks, and putting is even harder than blasting a golf ball down the fairway. So while it will probably never be approved for use in PGA tournaments, the Jedi Putter — designed by students at Rice University — provides real-time feedback helping an amateur golfer master their putting game.
---
Video: I don't care that The Masters is a tradition unlike any other because I know a mini golf version of the illustrious golf tournament would be way more fun to play and so much more hilarious to watch. Imagine Tiger getting screwed over by the windmill course. Or Phil mucking up the castle shot. It'd be like Happy Gilmore in real life. Simon Connor spliced golf highlights from the Masters with traditional mini golf courses and it's perfectly goofy.
---
Researchers at UC Irvine have determined that golfers who can't keep their shots out of the rough might actually be responsible for wildfires in California in recent years. Specifically, certain clubs made from a titanium alloy have been found to produce sparks up to 3,000 degrees Fahrenheit — more than hot enough to ignite dry foliage — when they make contact with rocks and stones in the rough.
---
Excuse the portrait mode video, but this golf trick shot is so impressive that we can ignore the blatant disregard of proper mobile phone video-recording etiquette. Here's what goes down: the guy behind hits a golf ball to the guy in front who swings and hits the same ball without the ball ever touching the ground.
---