The film's recent 30th anniversary has brought with it a wonderful influx of Ghostbusters merchandise that's perfectly engineered to separate nostalgic (and now grown-up) fans from their hard-earned money. We should be outraged, but who could be with these over-sized ghost-busting plush characters that actually play dialogue from the movies?
---
It's a great time to be a Ghostbusters fan as the film's 30th anniversary has triggered a renaissance in collectibles and other memorabilia connected to the movie. For example, if the thought of posing sculpted gnomes in your garden seems tacky, why not opt for this statue of the dog-like Keymaster monster that possesses Louis (Rick Moranis) instead?
---
There is no greater tragedy than trying to remove a single piece of pizza from a box only to have half the pizza's toppings come with it because it wasn't properly sliced. The solution is to either find a pizza place where the employees actually care, or buy yourself a pizza cutter and slice it up yourself. And if you're a Ghostbusters fan (who isn't?) this Slimer slicer seems about as good a choice as any.
---
Video: Oh boy. Looking back at the '80s is almost always funny. Looking back at the '80s through the prism that is a musicless music video for the Ghostbusters theme song? It is completely ridiculous. The chintzy special effects, the totally creeping Ray Parker Jr and the hilariousness of the movie all get smashed together for a rocking good watch.
---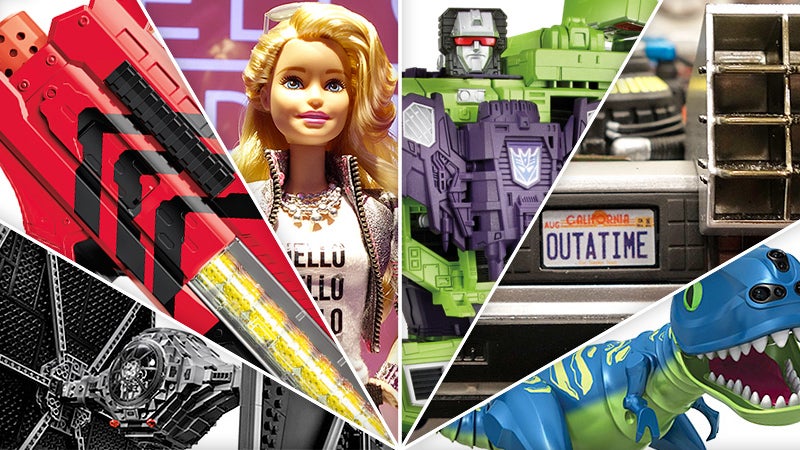 Once a year, toy companies from all over the world converge on New York to reveal what everyone will be fighting to buy their kids — or themselves — when the holidays roll around again. And once again we grabbed our cameras, put ourselves in the mind of a child (that was the easy part), and set out to find the most exciting new toys that will be hitting store shelves this year.
---
The history of Ghostbusters video games isn't exactly dotted with memorable titles, so when the folks at Cryptozoic (the same people responsible for the wonderful Adventure Time Card Wars game) wanted to re-visit the franchise, they decided to turn it into an episodic board game instead. And given the explosion in popularity of both board games and busting ghosts as of late, the company probably won't have much difficulty in making its Kickstarter campaign a success.
---
Got half a grand burning a hole in your pocket, a soft spot for classic gaming, and a love of Ray Parker Jr? Then eBay seller ultimatecustoms1982 has a convenient way to scratch all three of those itches at once with this custom-made original NES console shoe-horned inside of a die-cast replica of the Ghostbusters' Ecto-1.
---
If you're spending millions of dollars to make a movie, it seems like it would only make sense to make sure everything is ready for day one of filming, right?. Apparently Hollywood doesn't work that way, because as the designer of Ecto-1 from Ghostbusters reveals in this fun interview, they only started building the now iconic props two weeks before filming began.
---