---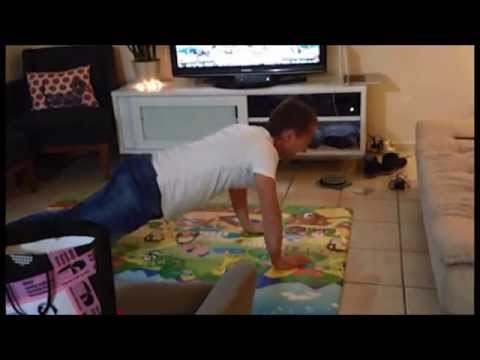 We're currently in the third week of our Shape Up Xbox One Challenge and things are starting to heat up. Last night, Chris and Mark took some time out from the Quest Mode to battle each other in the game's grueling push-up challenge. Here is the video.
---
There have been so many versions of Monopoly released that your eyes probably glaze over when you're trying to choose one. But if you're looking for as pure a Monopoly experience as possible, this 80th Anniversary Edition features a game board that's as close to the original version as possible, and a collection of game tokens fro across the ages — including that recently-introduced cat.
---
Like giant Koi in a pond who've grown larger than their goldfish siblings trapped in a bowl, this set of six over-sized wooden dice is designed to be tossed around in your spacious backyard. They say everything is better when it's super-sized, right? So playing with Yahtzee with five of these dice might actually come close to being actually fun.
---
---
If you ask someone what their favourite toy was growing up they will probably say something like Lego. But deep down it was really the illegal fireworks their friend's cousin's uncle got from his neighbour. Nothing can quite match the thrill of something going boom, and now amateur pyrotechnics enthusiasts can safely scratch that itch with software that lets you simulate a full-on fireworks extravaganza.
---
It doesn't take long after learning to play Noughts and Crosses to realise that once you've mastered the basic tactics, your games will end in an infinite run of ties. But Pressman Toy has done the impossible and made Noughts and Crosses actually sound interesting again by upping the challenge with the introduction of a third dimension.
---
Tired of being guilted into putting your phone away while you and your friends have gathered for an evening of Catan? Try convincing them to play Game of Phones instead. It's a simple card game that requires everyone playing to have a smartphone chock full of music, photos, and social media apps — at least if they want to win.
---
Puzzles can be a fun way to kill some time with friends or family, but there's no real competition until someone claims the last piece. How are you supposed to know who's superior to who? The folks at GameBrotherZ have come up with a solution with a board game called Tracktic that combines your love of puzzles with your love of victory (and rubbing it in).
---
If Solitaire and Minesweeper have been stripped from all the computers at work but you're still after a discreet way to kill a few minutes, you owe a debt of gratitude to Jeroen Domburg who successfully hacked a backlit Coolermaster QuickFire Rapid-I mechanical keyboard to play the classic game of Snake — which you might remember from an old Nokia phone.
---