A few days ago we found out that Kristian Nairn, better known as the actor behind Hodor from Game of Thrones, is also a pretty slamming DJ. That… and he's headed our way come August / September. If you're not sure if his turntable skills are for you, why not have a listen to them right now?
---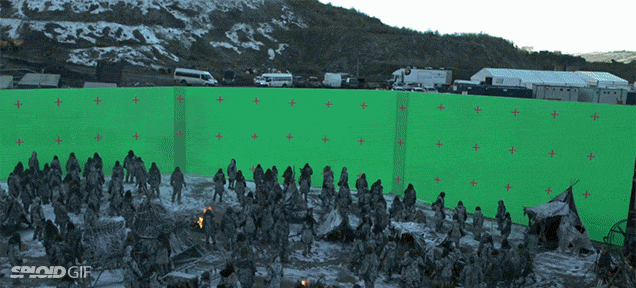 The VFX in Game of Thrones is consistently great for a TV show, with some scenes rivaling the very best of any visual medium. And this past season's battle (or massacre) at Hardhome between the White Walkers and wights vs The Night's Watch and the wildlings might very well be the best we've seen. At the very least, it's the most visually impressive battle scene the series has given us given all the moving parts. Here's how they made it.
---
---
The fifth season of Game Of Thrones ended last week, which means another long, cold year of intolerable waiting. For the first time, even book readers are mostly in the dark, with the show all but catching up to the source material published thus far. To round out our weekly recaps, we got together to discuss the high-points and low-points of season five. Was it a successful season overall or has the show jumped the kraken? Here are our (collective) two cents…
---
Video: It takes a masterful edit of Game of Thrones to turn Ramsay Bolton, the cruelest and most sadistic character on the show, into the kindest man in Westeros but man, they somehow did the impossible. Watch the hilarious video below to see how out of context Ramsay is actually a real sweetheart. He does so many nice things! He's nice to Theon! He loves Sansa!
---
The climate has been a persistent theme of Game of Thrones ever since Ned Stark (remember him?) told us "winter is coming" back at the start of season one. The Warden of the North was referring, of course, to the anticipated shift in Westerosi weather from a long summer to a brutal winter that can last for many years.
---
Game Of Thrones' latest season came to a breathtaking end last night. If you missed it, you can catch up with our wrap right here! One of the best moments of the season was the incursion into Dorne. Meet the talented blacksmith who fashioned the amazing weapons of Dorne.
---