While you endure the long wait for the next season of Game of Thrones, expand this image by Studio Incandescence and get lost exploring all the killings* in the series. But beware, if you're only watching the TV series, it contains spoilers from the books.
---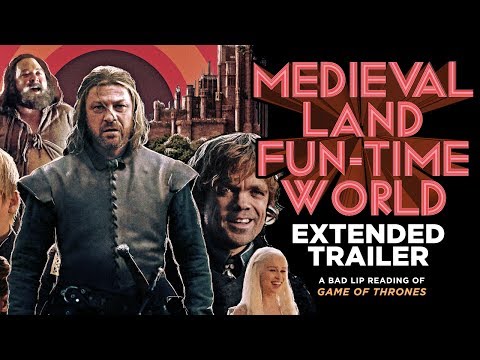 Game Of Thrones is not only brilliant TV, it's harrowing and at times, difficult to watch. It must have taken a fair bit of effort then to take it from a gritty piece of HBO brilliance and turn it into a B-grade teen comedy about someone trying to open an amusement park. This is a bad lip-reading of Game Of Thrones.
---
I don't mean to alarm you, readers, but some of the best shows on TV are being kept from us. Not everybody can afford Foxtel, which means subscribing to the basic package and paying extra just for the one premium channel that airs Game Of Thrones or Breaking Bad is out of the question for people who dislike wasting money. Thankfully, Matt Stone and Trey Parker feel our pain, and nailed cable networks to the wall in this sketch.
---
There's an endless array of creative hobbies, from painting miniatures to building guitars. There's also the lesser known art of carving stuff from crayons, something I wasn't familiar with until today. The results are impressive if you have the skills to match, as "HQ Tran" demonstrates with his rendition of Darth Vader above.
---
Illegal piracy of TV and movies is becoming an epidemic around the world, and Australia is leading the way. We're top of the charts for illegal downloads of new shows and have been for some time. So with piracy so high, why in the name of sanity would Channel Seven decide to delay the screening Agents of S.H.I.E.L.D, of one of this year's most anticipated shows, by not just a few hours or even a whole day, but by a whole week? Have you people learned nothing?
---
If you can't stand the wait until 2014 for the next season of Game of Thrones, then this fan-made short, inspired by the series, should go some way to stifling your cravings. Called "A Tale of Benjen Stark", it provides a brief glimpse at the life of Ed Stark's younger brother as he does battle with white walkers, helps a woman and girl in need and practises his, uh, unique ability to slow down time.
---
If you somehow managed to magically avoid all hints at what happens during Game of Thrones' now-infamous Red Wedding scene, stop reading now. Because one man hooked himself up to an Arduino and PulseSensor to track his heart rate during the episode, and spoilers abound (kind of maybe if you have really good eyesight).
---
In case you forgot, the RED Dragon is the latest 6K video-recording, insane dynamic-range-producing, probably-fire-breathing camera. This particular model is cased in carbon fibre, and will be put to the test filming the next season of Game of Thrones.
---
Who cares that the Iron Throne in Game of Thrones is forged from the swords of everyone Aegon conquered. This Throne of Nerds is made by artist Mike DeWolfe, who warped together more than 20 different keyboards to create a throne every one of us who stare at a computer for a living should be fighting for. This is the pinnacle.
---
Are you sick of waiting for Game Of Thrones to return to your TV screen? Have you all but given up on George R. R. Martin finishing the next book? If the answer is "yes" to both questions, here are some TV shows, books, movies and comics that will help to fill that Westeros-shaped void in your life…
---