If you're a Game Of Thrones fanatic, you should subscribe to Foxtel. If you want to watch it live, that is. As of the show's fifth season, which kicks off on April 13 — 32 days to go, guys — the Aussie pay TV provider will simulcast the show live and in line with the US as part of an event stretching across 170 countries around the globe.
---
Game of Thrones is a beautiful show to watch, because the world is so interesting, the characters are so twisted, the story is so screwed up, the sets are so picturesque and the special effects are so well done. But strip all of that away and use crude animations to replace all that and somehow, it's still a fun show to watch.
---
Even with just over a month left until the premiere of season five of Game of Thrones, it still feels like an eternity away. You could spend the interim watching the whole series again, reading the books, or even staging mock meetings of the Small Council in your living room. It's all old-hat though compared to this new blooper reel featuring Maisie Williams, Lena Headey and Peter Dinklage.
---
Game of Thrones' fifth season is less than two months away, and if you're looking for a way to pass the time you'll be pleased to hear that the last season has just hit store shelves on DVD and Blu-ray. If you haven't watched it yet, get on board! To celebrate the release, two of the show's most interesting characters have shared a few thoughts on the filming and future of the hit series. Spoiler warning!
---
Video: I don't want to spoil this brilliant short film by freelance London director Toby Meakins – starring Josef Altin, Pypar in Game of Thrones — so please watch it and try not to hold your breath. You won't regret it.
---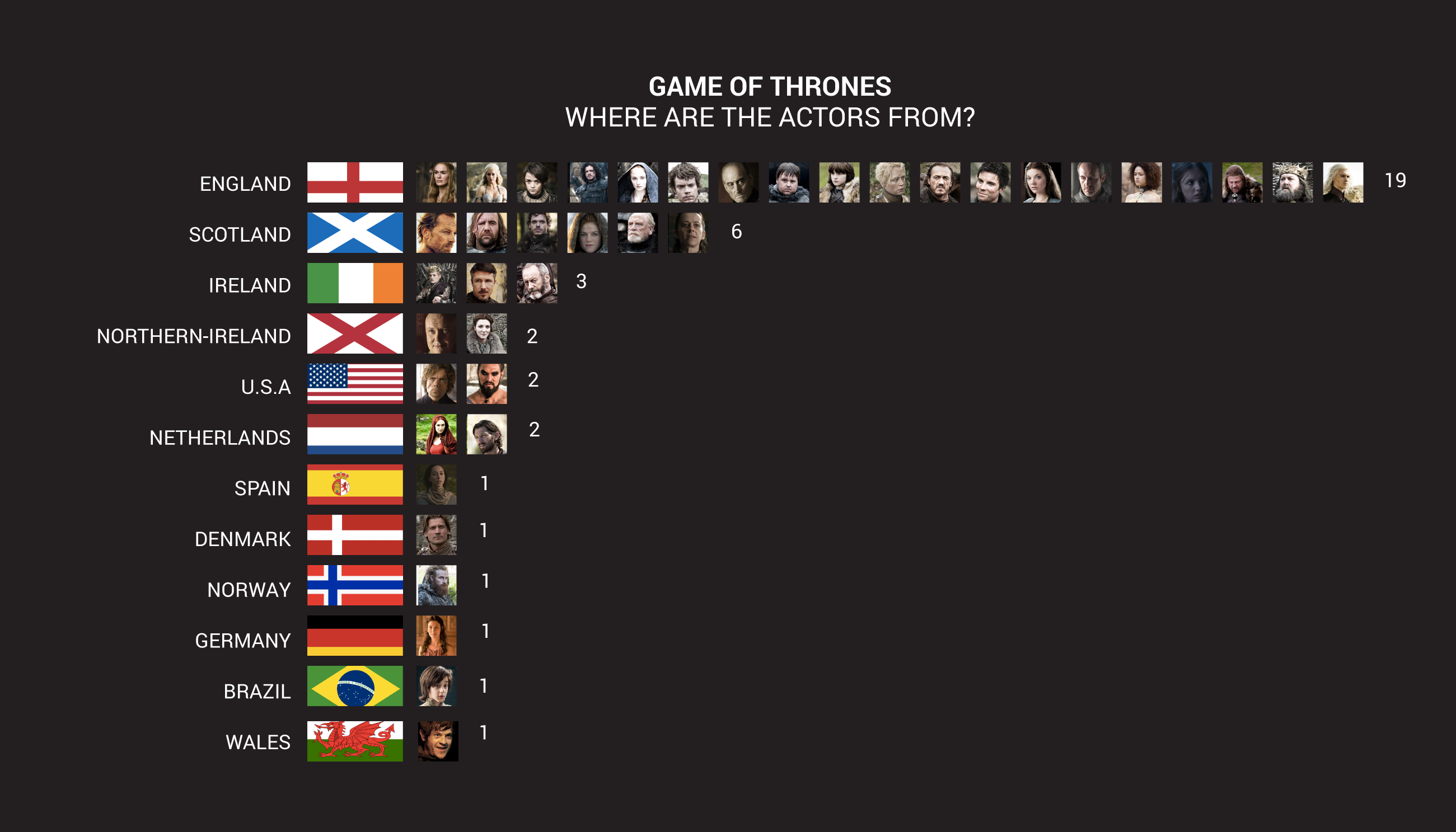 Briefly: One of the best things of Game of Thrones — apart from it's fantastic script or expensive but awesome production design — is its amazing actors that come from 12 different nationalities. This chart created by Jody Sie shows where each of them is from.
---
Video: In the lead-up to the next season of Game Of Thrones, HBO has remastered the final two episodes of season four to play in IMAX. There's a bit of a hype trailer for it now up on YouTube, and it looks awesome.
---