It's that time of year: If you're one of the hundreds of millions of people on IKEA's mailing list, you probably recently received a thick square of super-thin paper filled with (mostly rendered) products. IKEA has been sending these babies out for more than six decades — and you can follow the evolution of popular design just by looking at them.
---
Filling a venue with temporary seating is a time-consuming process — both during setup and take down — since it requires heavy chairs to be unstacked and then stacked again. But the designers at Seoul-based Centimeter Studio realised there was a better way. Their Sleeed chairs slide together and stack horizontally, so a whole row of them can be compressed like a bunch of nesting shopping carts.
---
IKEA is one of the largest corporations in the world, and even the smallest change in its supply chain could have a gigantic impact on its business. After all, this is a company that uses 1 per cent of the world's wood supply. In fact, IKEA operates a whole venture fund devoted to emerging tech, from ice cream to batteries.
---
A stained wood Adirondack chair can class up any deck, and it turns out a stained wood hammock can do the same for a backyard. This impressive creation, called the Para Hammock, still features an intricate web of cords (in this case, strong nylon parachute cord) — but here they're used to support over 700 tiny tiles made of walnut wood. So the whole thing flexes and undulates like a rope or fabric hammock, but provides a slightly sturdier spot to stretch out.
---
Last year, Gizmodo wrote about a Kickstarter for the Floyd Leg, an age-old, simple-as-nails clamp that turns whatever vaguely table-sized piece of material you choose into, well, an actual table. It was a refreshingly simple invention amidst the usual morass of insane vapourware and weird personal projects, and now it's a real thing you can buy.
---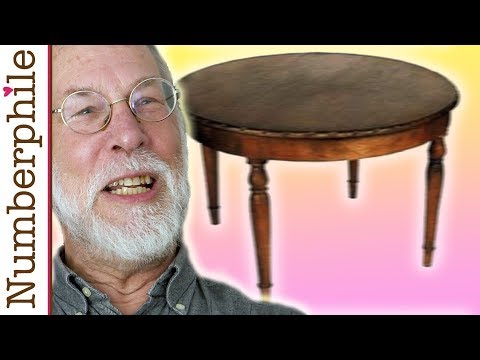 We've all been sat drinking a beer only to realise that the table wobbles irritatingly. But while a piece of folded paper can solve the problem for a few minutes, there is a better solution — and it uses some simple maths.
---
Need a quick way out of a relationship? The folks at Buzzfeed have come up with the most perfect weapon of mass destruction for marriages, friendships, and even family ties. It simply requires a pair of couples to go head-to-head in a race that has them assembling a single piece of IKEA furniture.
---