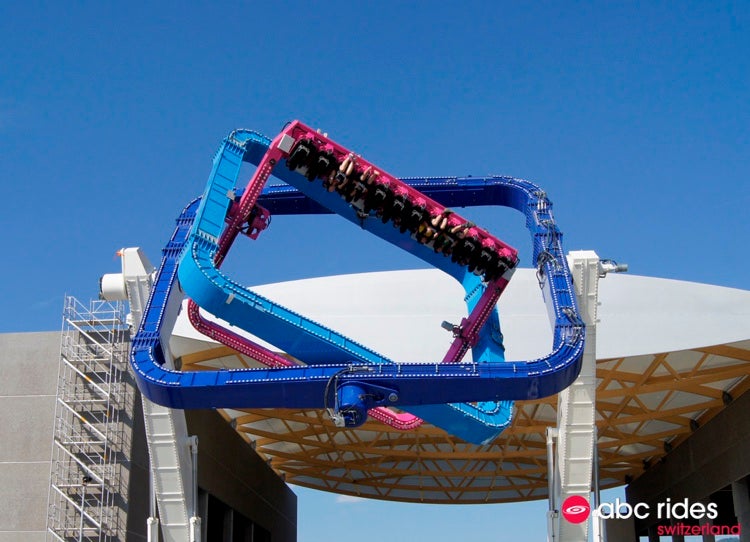 I don't really like going on upside down rides, due to my mortal fear of vomiting. But you know what? It would be worth all the puke in the world to ride this massive Tourbillon amusement park ride in Switzerland. It's called Starlight, probably because it looks like it could enable interstellar travel.
---
It's abundantly clear now that a slow motion camera is probably the funnest toy a bored suburban kid could ever ask for. Anything you do is immediately more gross, epic, impressive, sillier and just plain funner-er than real life. You could just load up a homemade cannon with brown sludge and ketchup and shoot it at people in slow motion and it will be a fantastic way to spend a day.
---
Who knew that Gatorade, an elixir of life, would be such a fun thing to blast a flamethrower at? Turns out because the plastic bottle shrinks while the cap disintegrates (since there's no liquid in it), the delicious hangover-curing fluid starts spewing all over the place. Science experiments that involve flamethrowers are fun.
---
Video: I can barely keep track of what's going on in each scene of this video by AXYZM because everyone is moving in such perfectly orchestrated movements that my eyeballs just start spinning trying to keep track. It's like seeing human kaleidoscopes shift around or mirrored clones mimicking each other.
---
OpenROV is an open hardware kit that allows you to build a fully-functioning remotely-operated vehicle that can dive into the water and shoot video. And now some helpful marine biologists have hacked the amazing little robot to bring them beer. Just watch and enjoy.
---
Video: Owen Wilson basically plays the same guy in every single movie he's in. If you've seen his shtick, you know all of his go-to moves. Here is a video compilation of one of his favourites, saying "wow" at things. He either goes with breathless stunned "wow" or with an inflection that turns it into an upside down cat meow.
---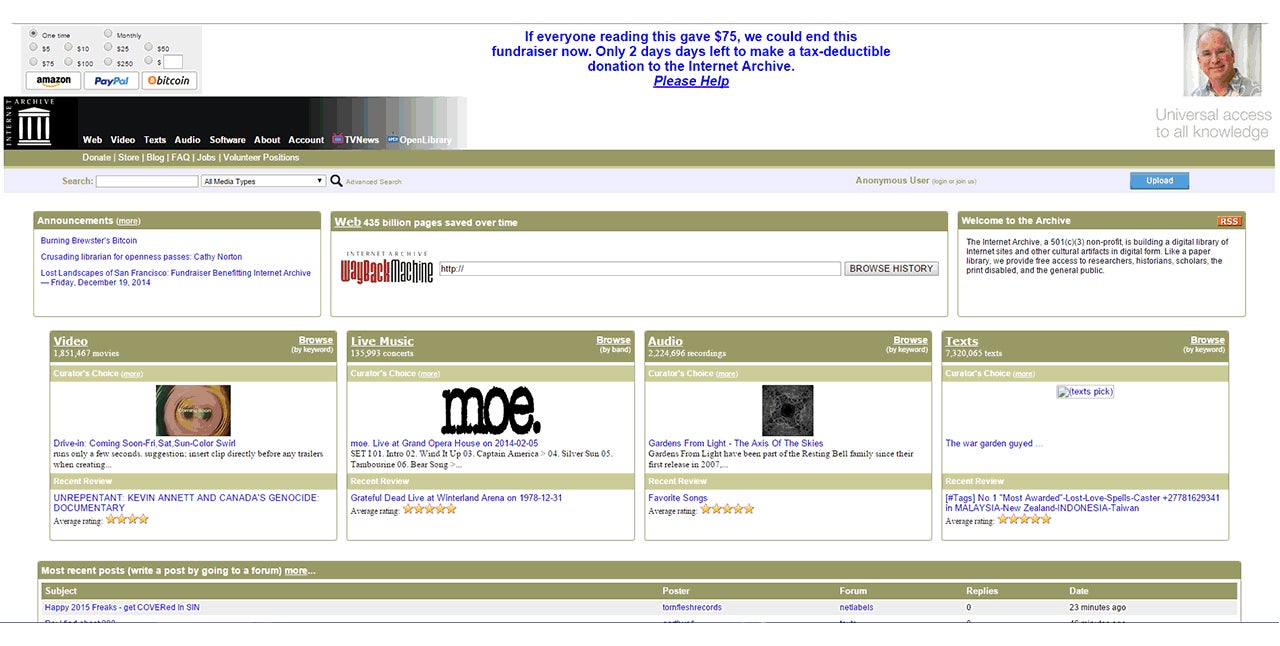 If you've logged onto the Internet Archive recently, you might've noticed that humanity's ultimate information dump has a pretty new face. And about time too.
---
Video: I'll never watch Titanic again, because I don't have a time machine that could send me back to the '90s as a teenage girl. But! I would love to play this silly 8-bit video game of Titanic. It sums up all the happenings in the movie pretty well and is perfectly silly: you play cards, you draw Rose naked, you escape a sinking ship and then you die.
---
The Fast & Furious movies today are fun, blood pumping action movies with a few car scenes spliced in. But the original movie that kicked it all off, The Fast and The Furious, was pretty much all about cars. This 8-bit racing game version sums the movie up pretty well. I would have loved to play this game as a kid.
---
Video: Furious 7 is releasing in cinemas this week, which means all of mankind is about to have its eyeballs blasted (and brains removed for two hours) with the most insane special and practical effects that don't involve space or superheroes or space-based superheroes. Here's a quick cut of some behind the scenes footage of Furious 7. The action sequences look fantastic.
---