Briefly: If you reverse the process in one of those enlightening How It's Made videos you get a fantastically funny How It's Unmade parody series. This particular comedic episode shows how a delicious Oreo is extracted to provide half the United States with flour and harvested for cocaine, gunpowder, cocoa and sugar by wizards. It's hilarious how much is hidden inside those cookies!
---
You probably don't remember The Fifth Element game for PlayStation because it was so crappy. And you don't remember this 8-bit The Fifth Element game because, sadly, it never existed. It's just a video made by those jerks at CineFix, who keep taunting us with awesome but fake retro game remakes of classic movies.
---
Video:If you're too impatient to wait for opening day on 22 May, here you have a sneak preview of the opening battle in X-Men: Days of Future Past, now clearly showing the awesome morphing Sentinels from the future. The scene shows the mutant hunters invading their hideout.
---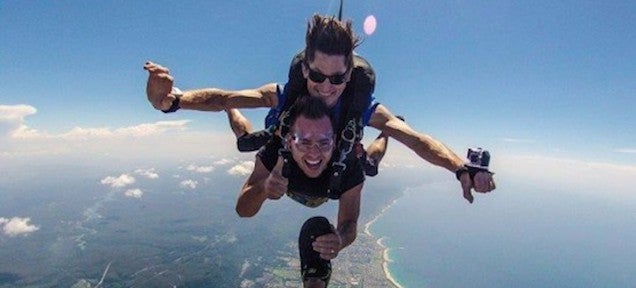 Stuck in your cubicle? Dreading work for the week? Wish you could go out, have fun, spend money, not work and still get paid? Then you (and every other person in this world) want to trade places with Andrew Smith. His job is Chief Funster for New South Wales. As in his job is to have fun. Seriously.
---
Video: Seeing dogs get confused by a magic trick was so darn cute the first time that magician Jose Ahonen decided to pull the same disappearing treat trick again with more adorable dogs. You can laugh as they hilariously react to the sorcery of seeing something vanish right underneath their nose and cry aww as you see their trusting eyes in the video below.
---
Instead of coming up with idiotic ideas, perhaps all the dumb companies trying to push their stupid April Fools' Day "jokes" down our throats should start making some actually awesome pranks. Like this one, played on young waitress Chelsea Roff, who basically got her shift turned into the best day of her life.
---
Steve Wozniak just sent this fun stunt caught on video a few years ago: Watch him deliver a Mac to Emma, a girl who freaks out when she realises her idol is at the door carrying her new computer. As Emma's father says in the video: "This is like having your lightbulbs delivered by Thomas Edison". He's totally right.
---