Loading page
There are endless metrics a store has access to when it comes to when, what and who is buying merchandise. But, surprisingly, there's not a heck of a lot of data on why a customer decides not to buy something. So Fujitsu is hoping its new Kinect-based research tool provides more insight into how customers browse, and why they may decide against a purchase.
---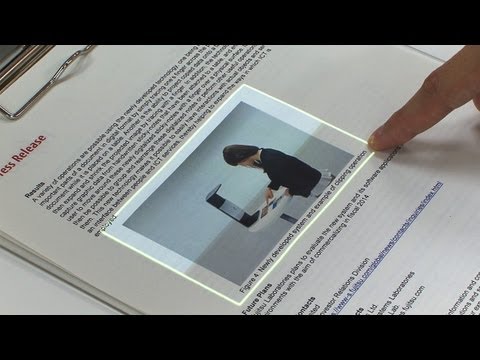 Realising that the oft-promised 'paperless office' may never actually come to fruition, researchers at Fujitsu are working on a backup plan that gives printed documents similar tablet-like touchscreen functionality. Using a tabletop projector, webcam and other sensors, the system can precisely detect finger movements and motion in 3D.
---
Relying on your tablet's on-screen keyboard saves you from having to carry clunky accessories, but it also gobbles up a good chunk of usable screen real estate. So Fujitsu researchers are working on a happy medium that uses the tablet's camera to track your finger movements on a desk, as if you were typing away on an invisible keyboard.
---
If you know a friend who is going to the London 2012 Opening Ceremony in London, you might want to remind them to wear their Sunday best. Getty Images and Fujitsu are building a camera rig in the stadium where the ceremony is to be held so that they can capture and stitch together an image that, when completed, will be 20-gigapixels in size and will see individual members of the crowd identified at full zoom. Creepy.
---
---
---
When transparent LCD technology started popping up as consumer tech prototypes a few years ago, it was quickly dismissed as gimmick, or something for a marketing kiosk. But looking at this touchscreen concept from Fujitsu — which is double-sided and transparent — makes you wonder if there is hope for this tech yet.
---
Loading page