Loading page
Video: RB12-FS-00663-02 is a single front suspension camber bolt for one of Red Bull Racing's Formula 1 cars. It's one of over a million that the racing house produces every year, but that doesn't mean that you can cut any corners.
---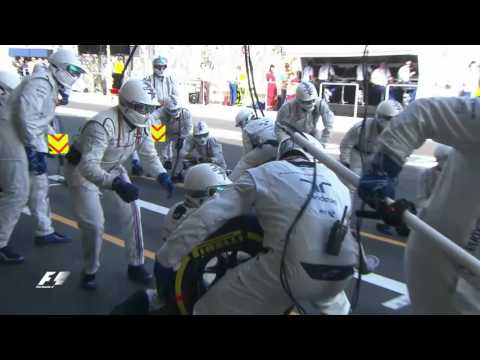 F1 pit stops are fast. If you're Lewis Hamilton or Daniel Ricciardo or Fernando Alonso and you're waiting for over three seconds for your tires to get changed and your front and rear wings' aerodynamic config to be tweaked, something is seriously wrong with your pit crew. In fact, the fastest Formula 1 pit stop is well under two seconds, and last Sunday's race in Azerbaijan may well have been the shortest pit stop yet.
---
Building your own race car isn't quite as simple as welding together a tube frame, bolting in an engine and hitting the racetrack. There's a lot of work that goes into calculating spring rates and suspension travel, and that's before you get complicated steering and gearbox linkages worked out. Oh, and tyre pressures.
---
Video: Formula 1 is a complicated sport. Team radio can tell drivers almost everything they need to know, but the multitude of different gadgets and gizmos on each car have to be controlled by the guy in the cockpit — and that's where the steering wheel comes in. Three-time world champion Lewis Hamilton has more influence than most drivers in the way his steering wheel looks and feels, and it's an extremely complex piece of technology.
---
Video: Jelle Bakker, who has a fondness for complex marble runs, made this epic 228m long sand track that descends some 38m from its start to its finish. The 12 marbles competing in this video take almost four-and-a-half minutes to complete the run, and you'll be surprised to find yourself rooting for your favourite.
---
Video: 2016 is the year of louder, meaner Formula 1 cars. And it sounds like Mercedes' W07 Hybrid might just be the meanest of them all.
---
---
If you're in a F1 car racing around a track, there's a lot of information to interpret — whether it's something you can see on the tarmac in front of you, or raw data coming from dozens of onboard sensors and computers. Having too much information is a genuine problem for F1 drivers, and having it all displayed in one place is only part of the solution. In partnership with championship leader Mercedes AMG, Epson is now a Formula One sponsor, and it might be able to make the first step in fixing that problem.
---
Any form of racing necessitates being fit, with great reaction times and enough muscle mass to handle the regular and sustained punishment that comes from throwing yourself around a race track. But when you're a Formula 1 driver, pushing a 450kW-plus, sub-750kg purpose-built cornering machine around a track at speeds topping 300km/h, you have to be the best. And the way you get there is with a lot of hard work.
---
In 1986, Benetton Formula — the team that would become Renault and later Lotus F1 — had the B186-05. Powered by the 1.5-litre, highly turbocharged BMW M12/13, it was an enormously powerful Formula One car, developing nearly 1500 horsepower in qualifying trim and clocking a fastest-ever 352km/h down the main straight at Monza. That engine is widely regarded to be the most powerful ever used in Formula One. Seven chassis in total were built throughout the 1986 season by Benetton, two were destroyed, and of the five left, one is up for sale — in Sydney.
---
Loading page