Looking for the perfect gift for the artist in your family? Look no further than this new paint kit designed by the Japanese product and furniture studio Nendo. Except it's not really a paint kit. Instead of foil, the tubes are made chocolate, and instead of being filled with paint, they're filled with yummy syrups.
---
Created roughly 4000-5000 years ago in China, the earliest versions of something like chopsticks were used for cooking (they're perfect for reaching into pots full of hot water or oil) and were most likely made from twigs. While it's difficult to nail down a firm date, it would seem it wasn't until around 500-400 AD that they began being used as table utensils.
---
---
---
There are countless online services that will turn your Instagram photos into everything from business cards, to flipbooks, to coffee mugs. But Bloomf has taken a wholly original approach to making hard copies of your digital photos — except they're not hard at all. The website will print your shots onto gourmet marshmallows letting you devour the photos of your favourite meals all over again.
---
---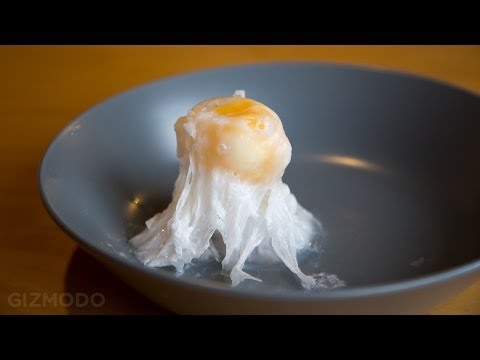 Gizmodo's mad scientist Brent Rose had some super-cold (-73°C) cryogenic fluid left over from yesterday's Happy Hour experiment making booze into cryo-spheres. So he did what any mad scientist would do: cracked an egg in it! Watch the weirdness that transpires.
---
Why waste counter space with separate bottles of both olive oil and balsamic vinegar when the talented folks at XD Design have come up with a better all-in-one solution? Their Orbit features a pair of mouth blown glass globes sitting inside each other, keeping the two liquids separate — while also playing up the fact that oil and vinegar do not mix.
---