Venice? Sure, it's sinking. So is Mexico City, Bangkok and Ho Chi Minh City. But none of them are being submerged as fast as Jakarta, which is sinking as much as several centimetres a year — for comparison's sake, Venice is sinking by 2cm every year. Now, Jakarta is undertaking a three-decade-long plan to save its coastline.
---
At one time, Epecuén was a booming resort city: a grand town on a beautiful lake, attracting holidaymakers from all over Argentina in the 1920s with its revitalising salt waters. There were hotels, nightclubs, and restaurants. Today, it's a thicket of bleached white ruins, latticed with rusted steel and fallen power lines.
---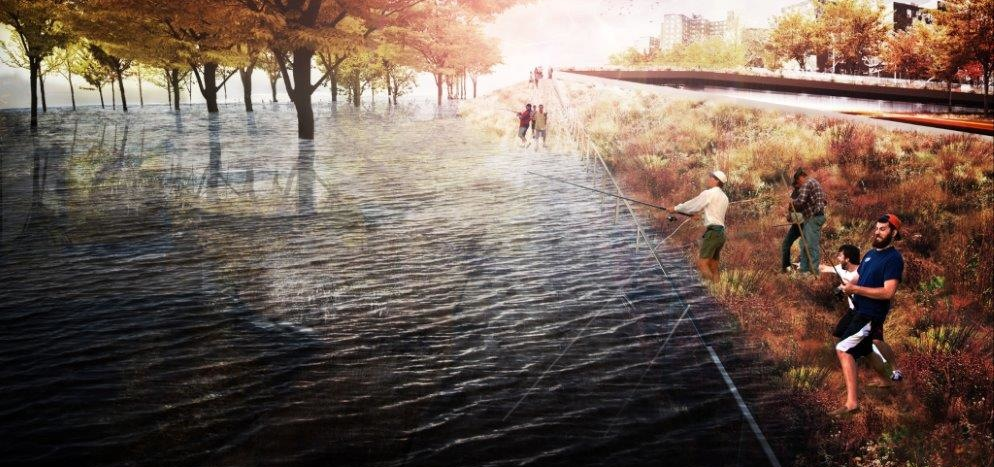 ---
When the Missouri River spilled over its banks in a catastrophic 2011 flood, we could have seen it coming — from space, that is. There's more to the story than meets the eye: the satellites don't take photos of snowpacks or rivers, but rather, they detect tiny changes in gravity over the Earth's surface to track water.
---
Mies van der Rohe's Farnsworth House, a masterpiece on the banks of the Fox River, has been hit by three different "100-year-floods" in the last 20 years. Now, preservationists are considering putting the home on permanent hydraulic jacks to lift it above floodwaters. The Farnsworth House would become a cyborg building — and it's far from the only one.
---
Humans are almost universally bad at planning for the distant future — most of us would rather live in blissful, unprepared ignorance than think about our superannuation. The same goes for cities: Dealing with the next storm is way easier than spending many billions of dollars to protect us from storms 20 years down the road.
---
While the American West stumbles forward into an already dangerous drought — and it's barely even summer — Berliners are simply not using enough water. This means that the city's water table is now on the rise, and it's beginning to threaten the city's buildings from below. Some basements have already been affected.
---
After Hurricane Sandy decimated the New York City subway system last year, officials pledged to install new devices to help halt the rising tides — including flood gates and, more intriguingly, a device called a "tunnel plug".
---
The floods in the US state of Colarado are being described as "biblical", and that word seems to fit for once. Boulder, for example, usually gets around 380mm of precipitation annually. This year, that amount has fallen in the 10 days since September 9 alone. On September 12, they received 229mm in one day.
---
After Hurricane Sandy blew through New York in October, the lion's share of media coverage focused on the beachfront where damage was most visible. In lower Manhattan though, the 3m storm surge took a subterranean toll, ruining millions of dollars worth of mechanical systems and forcing many developers to consider how they'd retrofit for the next big one.
---