Sometimes the shark plays the role of David. Especially when it goes up against the giant Goliath Grouper who looks more like a swimming Godzilla than a fish. And in real life, David the shark doesn't have a shot against the Goliath fish because the ginormous creature can swallow the 1.2m shark whole in one bite.
---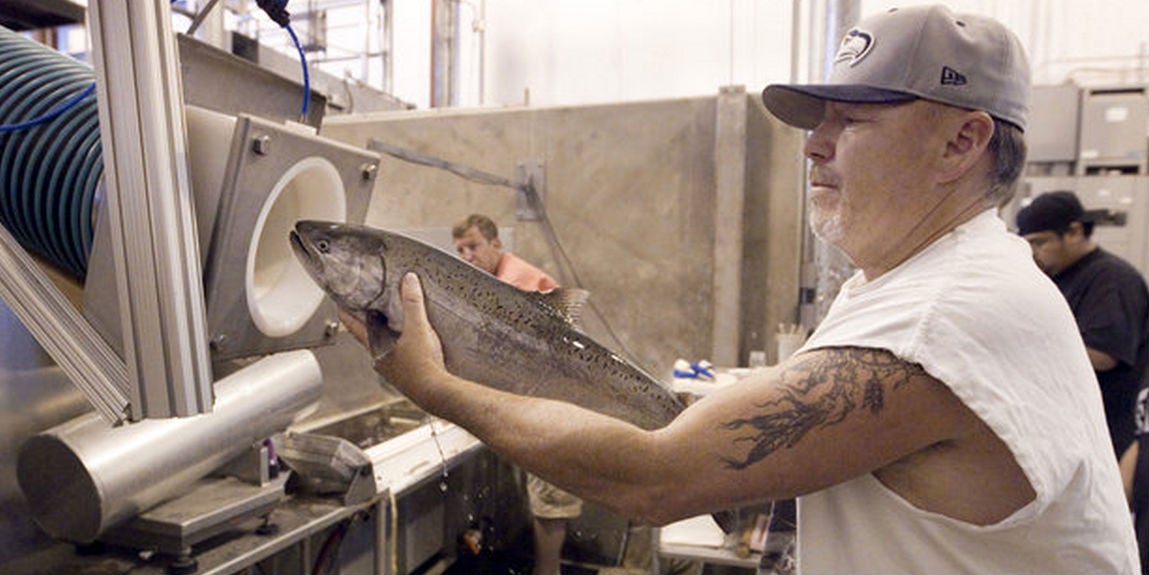 It's not easy being a migratory fish these days. Not only do you have to deal with natural obstacles like friggin bears, there are also man-made obstacles standing in the way — like 150m tall dams. One enterprising company has figured out a safe and effective way to get around these problems: a fish cannon.
---
The bluefin tuna is a magnificent creature. A silvery torpedo, it grows as big as 453kg, swims as fast as cars, and survives the cold waters of the ocean, weirdly enough, as warm-blooded fish. Oh, it also happens to be pretty tasty as sushi. Thanks to our growing sushi appetites, the bluefin tuna seems likely to be obliterated off the face of the Earth unless we do something drastic — like stop eating it or, what the hell, use science to start spawning them in tanks on land.
---
Video: This goliath grouper sure isn't happy about sharing the waters with us humans. It grumpily swims over to the man spearfishing, intimidates him with a little head butt and then steals the fish he caught. Even worse, he took the guy's gun for a little joy ride. It's like stealing someone's date right in front of them.
---
With millions of tons of carbon dioxide billowing into the atmosphere from our power plants, one possible solution to the pollution is carbon capture — sequestering the greenhouse gas before it ever leaves the plant. But then what do you do with all that carbon? Norway has an interesting new plan: farm salmon.
---
Video: This slow-motion video shows how fish actually eat. When they want to catch prey, they throw their jaws forward and create a space where water rushes into their mouths, instead of moving their whole bodies forward as I — and the guys at Smarter Everyday — thought.
---
This big black blob that recently appeared off the San Diego coast looks like the fallout from an oil spill, or an undersea plague coming to haunt humans and probably steal their souls. In reality, it's a massive school of anchovies — harmless enough that people are actually snorkelling through the dark mass of fish.
---
We humans love booze as liquid courage, but we're not the only ones who feel extra capable after a few swigs. New research shows that a tipsy zebra fish will swim faster than the sober fish in its school — like a big show-off. And just like humans, the sober fish will speed up rather than be outdone by a drunkard. Humans: basically, we're just big fish.
---