Video: Pygmy seahorses are super tiny creatures that have the awesome ability to camouflage. They attach themselves to colourful corals and blend in so seamlessly that I have a hard time picking them out. What's cool is that even if the pygmy seahorses are descendants of orange seahorses, they can adapt and become purple if that's the only coral nearby.
---
Continuing his fantastic series of macro shots of the eyes of animals, here is Suren Manvelyan's Animal Eyes 3. The close up shots of the fish and reptiles and other animals in this series look positively alien when seen up close. I thought they were artist's rendering of deep space planets from a sci-fi movie.
---
As mesmerising as an aquarium full of fish can be, it's hard to not feel bad about imprisoning them in a glass cell. And maybe that's partly what inspired Adam Ben-Dor, the creator of that awesome animated Pixar-like desk lamp, to build the Abovemarine; a glass bowl on omni-directional wheels that lets its sole swimming occupant steer it around.
---
I wish these crazy blue laser lava spewing fish were a newly discovered species or some radioactive experiment gone wrong but they're not. Luckily, reality is just as cool. Well, almost. The blinding light is actually a tiny crustacean called an ostracod's defence mechanism against the translucent cardinalfish.
---
Sometimes the shark plays the role of David. Especially when it goes up against the giant Goliath Grouper who looks more like a swimming Godzilla than a fish. And in real life, David the shark doesn't have a shot against the Goliath fish because the ginormous creature can swallow the 1.2m shark whole in one bite.
---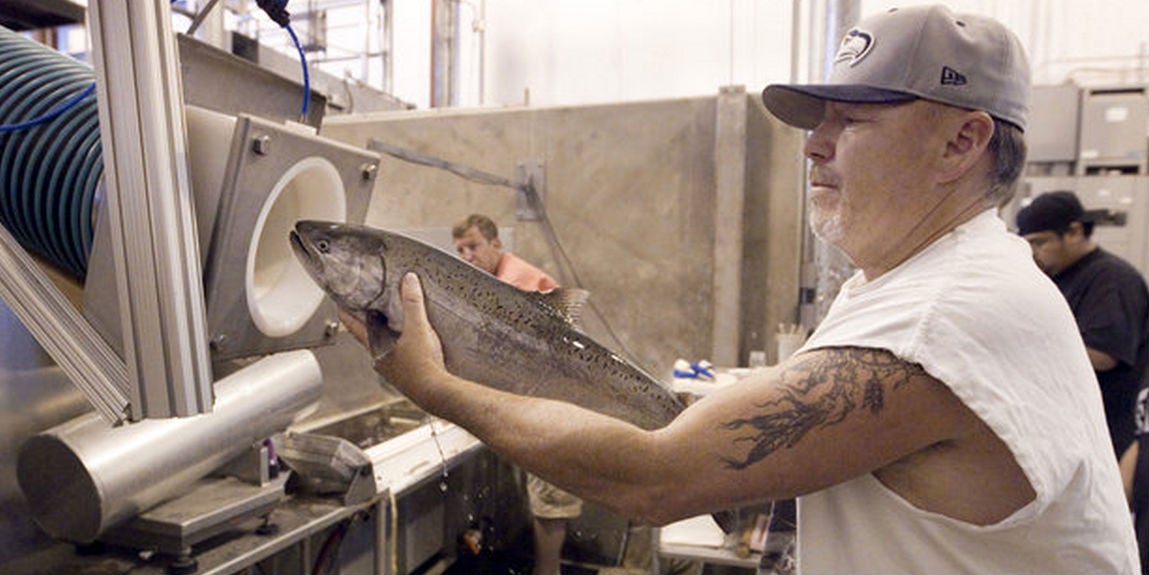 It's not easy being a migratory fish these days. Not only do you have to deal with natural obstacles like friggin bears, there are also man-made obstacles standing in the way — like 150m tall dams. One enterprising company has figured out a safe and effective way to get around these problems: a fish cannon.
---
The bluefin tuna is a magnificent creature. A silvery torpedo, it grows as big as 453kg, swims as fast as cars, and survives the cold waters of the ocean, weirdly enough, as warm-blooded fish. Oh, it also happens to be pretty tasty as sushi. Thanks to our growing sushi appetites, the bluefin tuna seems likely to be obliterated off the face of the Earth unless we do something drastic — like stop eating it or, what the hell, use science to start spawning them in tanks on land.
---