---
It is a truth universally acknowledged that black snakes are among the lamest of fireworks, second only to snappers. But when you get everyone's favourite red hot nickel ball involved, things get a lot more fun.
---
On the grand spectrum of fireworks ranked by awesomeness, sparklers are pretty far towards the "lame" end, just slightly cooler than black snakes. But what if you have a few hundred of them going off all at once? It's a little more impressive.
---
Today, a fraction of the world's population celebrates its independence with shockingly expensive displays involving thousands of pounds of potassium nitrate and sulphur (and many more litres of beer). But if you're a member of the other 6.7 billion people on Earth, fireworks aren't seasonal — and for that, you're lucky.
---
---
There's something wonderful about watching things blow up in sparkly, colourful explosions. This explosive timelapse video of the massive annual International Fireworks Competition in Da Nang, Vietnam, will make your backyard shows look puny by comparison.
---
A horrible thing has happened today in China's Henan province. A truck loaded to the gills with fireworks — intended for the country's upcoming Lunar New Year celebration — fired off its wares on a busy highway, resulting in six minutes of the most brightly lit, celebratory destruction in recent memory.
---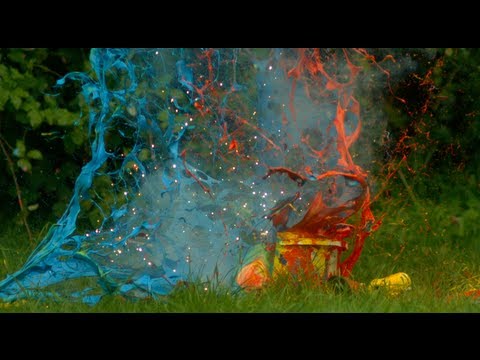 If you want a colourful explosion, you can get your hands on some fancy, professional fireworks, sure. Or, you can take the easy way out and blow up a couple of buckets of paint. You'll be like a Jackson Pollock with a case of M-80s. The Slow Mo Guys went with that second option, and the results are modern art you can get behind.
---
Sometimes I think Dubai exists in its very own dimension, an alternative over-the-top world where everything has to be the best of the best. This amazing photograph by Gerald Donovan is proof: the biggest and tallest firework show in the world, shot on New Year's Eve 2013 at the Burj Khalifa, the highest man-made structure in the world at 830 metres.
---