Video: A fire in Valparaíso, Chile has destroyed more than 2500 homes, left 11,000 people homeless and killed at least 15 people. It's an unfathomable tragedy that has destroyed an entire community. This drone footage from Skyfilms attempts to show the extent of the damage caused by the fire's wrath. It looks like a set of an apocalyptic movie, only it's real people and real lives on the ground.
---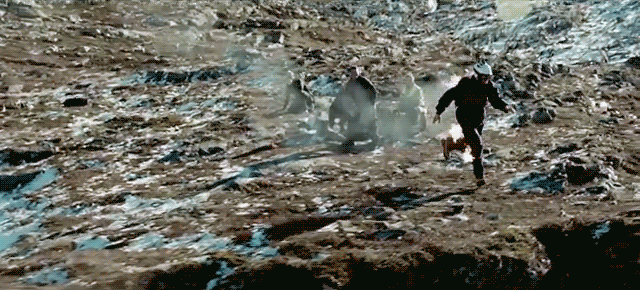 The whole base jumping thing is getting out of hand. The Awesomerer found this video of Tom Erik Heimen setting himself on fire and jumping off a 1200m cliff in Norway. The biggest risk, they say, was that the small parachute — called pilot chute — that it's used to deploy the actual parachute might catch on fire. Fortunately, that didn't happen.
---
If you've heard of underground coal fires, then you've probably heard of the one raging under the abandoned town of Centralia, Pennsylvania, since 1962. Fifty-two years is a long time — and a lot of coal — but that's barely a blink compared to Burning Mountain in Australia, which has been ablaze for 6000 years.
---
At one point in time, camping was truly about getting away from it all and only relying on nature for everything you needed. But these days, most new camping gear pertains to keeping your smartphone charged. Not Francesco Faccin's Re-Fire kit, though. It's designed to make camping a little more rugged again — by letting you start a fire using nothing but wood and elbow grease.
---
A man died trying to escape a fire in his high-rise apartment building in Manhattan earlier this month. What makes this all the more tragic is that he would have survived — if he had only stayed in his apartment. Skyscrapers are designed to contain fires, so that, even when you're hearing alarms and smelling smoke, the safest thing to do is to ignore every instinct to flee and stay put.
---
If you're a smoker who always has a disposable Bic lighter on hand, it's time to ask more of that small accessory taking up space in your pocket. The LighterBro is basically designed to serve as a case for your Bic lighter that also happens to give it amazing slicing, repairing and bottle-opening powers.
---
It's usually over in an instant, but when you capture macro footage of a match head igniting at 4000 frames per second, suddenly that almost instantaneous event becomes a fascinating look into the science of fire and ignition. And, believe it or not, YouTuber UltraSlo had to throw an additional 2000 watts of light on this match head to capture this mesmerising footage — that's a lot of birthday candles.
---
If you've ever lamented the fact that putting your sofa right next to a warm crackling fireplace was dangerous, carbon nanotubes might one day come to the rescue — again. Researchers at the National Institute of Standards and Technology — or NIST — have created a carbon nanotube-based coating that makes the foam used in furniture considerably less flammable.
---