Loading page
Racing Formula One is like being inside a fighter jet that's zipping through impossibly winding roads at 322km/h. There's a lot going on. Piloting a powerful race car through the twisting roads requires a steering wheel that can control and handle all those changes on the fly. It also makes for a steering wheel that doesn't look like a wheel at all.
---
The wait is finally over. After months of teasing a new Aston Martin hypercar, the AM-RB 001 was officially unveiled at Aston Martin's Gaydon headquarters yesterday. The car is the product of a unique partnership between Red Bull Racing's F1 outfit and the famed British car manufacturer, bringing together the technical expertise and rich racing heritage from both parties.
---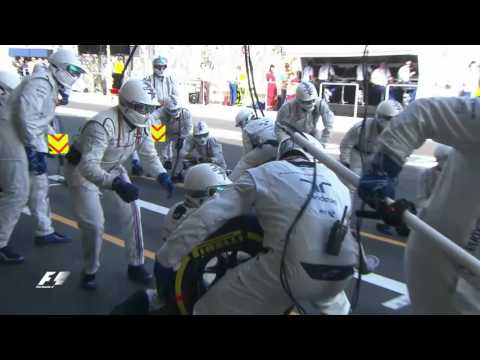 F1 pit stops are fast. If you're Lewis Hamilton or Daniel Ricciardo or Fernando Alonso and you're waiting for over three seconds for your tires to get changed and your front and rear wings' aerodynamic config to be tweaked, something is seriously wrong with your pit crew. In fact, the fastest Formula 1 pit stop is well under two seconds, and last Sunday's race in Azerbaijan may well have been the shortest pit stop yet.
---
Aston Martin and front-running F1 team Red Bull Racing are coming together and sharing their expertise to build a hypercar, using F1 technology in the same way that Ferrari does in its flagship road cars. RBR chief technical officer Adrian Newey is joining Aston Martin's Marek Reichman to build a brand new road-going vehicle code-named AM-RB 001.
---
The safety of its cars is one of Formula 1's most controversial aspects, with the open-cockpit open-wheelers suffering several driver head impacts in recent years, some of them critically injuring or even killing drivers. F1's governing body wants 'halo' cockpits introduced into the sport by 2017, despite drivers' mixed feelings, and several different — incredibly different — designs are being tested by F1 constructor teams.
---
Building your own race car isn't quite as simple as welding together a tube frame, bolting in an engine and hitting the racetrack. There's a lot of work that goes into calculating spring rates and suspension travel, and that's before you get complicated steering and gearbox linkages worked out. Oh, and tyre pressures.
---
Video: Formula 1 is a complicated sport. Team radio can tell drivers almost everything they need to know, but the multitude of different gadgets and gizmos on each car have to be controlled by the guy in the cockpit — and that's where the steering wheel comes in. Three-time world champion Lewis Hamilton has more influence than most drivers in the way his steering wheel looks and feels, and it's an extremely complex piece of technology.
---
Video: Formula One racing mixes man with machine so much that both are essentially responsible for victory. That's why F1 gives out awards to both drivers (F1 World Drivers' Champions) and the constructors of the cars (F1 World Constructors' Champions). The constructor is basically the automobile maker of the vehicle (think Ferrari and Mercedes and so on) and the winner is determined "by adding points scored in each race by any driver for that constructor".
---
Video: 2016 is the year of louder, meaner Formula 1 cars. And it sounds like Mercedes' W07 Hybrid might just be the meanest of them all.
---
Loading page