Finding a suitable runway to launch your multibillion dollar fighter jet from isn't always as easy as it sounds. That's why the F-35B Lightning II is designed to with the ability to both take off and land without ever needing to taxi. Here's the first look at its vertical launch.
---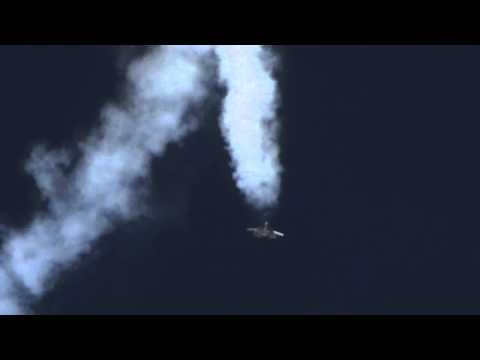 Lockheed Martin just completed the latest high angle of attack test series. It was a complete success, as this video shows.
---
Over here at Gizmodo Australia, we're all lucky enough to be living out our dream jobs. Everyday we're testing new gadgets, new tech and previewing the next big thing. My job, however, is nothing compared to the job of Elliot Clements. His colleagues call him "Hemo", not because it's a clever nickname from some obscure experience, but because that was his callsign for the 14 years he was in the Navy, flying combat missions in places like Iraq and Afghanistan. Hemo is a fighter jet test pilot on the trillion-dollar F-35 fighter jet program, and he really does have the best job in the world.
---
In what is becoming almost as consistent as the sun rising in the east and setting in the west, the F-35 — America's trillion dollar joke of a fighter jet — has been grounded again. I don't even know how many times the fighter jet has been grounded now, I've lost count. This time, it's because of a crack in a turbine blade of the engine.
---
---
Aerial refuelling is an invaluable technique, not only extending a jet's operational endurance, it allows for more and heavier equipment to be carried than would otherwise be possible. Since its inception in the biplane era, this technology has developed into what you see here: two F-35C Lightning II jets attached to the business end of a Lockheed Martin KC-130 Hercules. At the same time. That's a first.
---
Time for some aeroplane porn: Lockheed Martin has completed high angle of attack testing for the F-35A Lightning II. The aircraft was able to get to its 50-degree limit with ease:
---
Among heavy criticism and in the middle of the Presidential race, the beleaguered F-35 Lightning II program keeps marching on: Lockheed Martin has completed the fighter's first weapons test, successfully dropping a 900-kilogram bomb from its left internal weapons bay over the Naval Air Weapons Station China Lake's test range.
---