You remember the sodium demo from chemistry class: Just a small chunk of the pure metal dropped into water causes a great big flash and bang. You might even remember your chemistry teacher's explanation for why. But there's always been a missing piece of the puzzle, which scientists have finally figured out using high-speed video cameras.
---
Video: That is one hell of a boom, which makes sense since it's an explosion of a factory of things that go boom. The explosion occurred in Colombia and injured two people. The initial blast knocked the cameraman over and the ensuing fireworks kept shooting out for a solid minute after that. It's pretty nuts.
---
How hard can it be to blow up a building? My childhood experience with knocking over waist-high towers of cardboard blocks leads me to say "not hard," but this botched job by a demolition team in Sevastopol suggests otherwise. I mean, come on guys.
---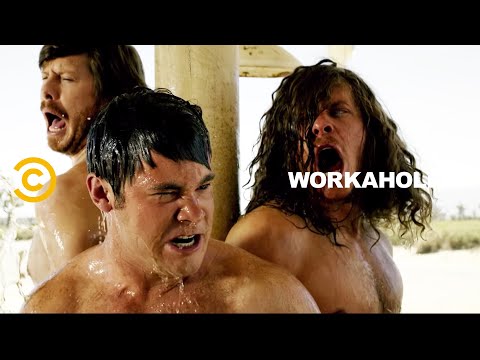 Workaholics is a funny TV show about slacker college friends who happen to be roommates who also happen to be co-workers and the hijinks they get into. Workaholics is not a show about guns and explosions and shootouts and strippers. But guess what the trailer for Season 5 is about? Yep. Guns and strippers.
---
When the Antares rocket exploded seconds after launch on Tuesday night, NASA was able to account for all its employees very quickly after the failure thanks to a clearly very well-practised protocol. The launch gave us a peek into the processes that dictate every rocket launch, and one of them was particularly surprising.
---
A Nerf gun is never not fun. If you see one of those laying around anywhere, at a toy store, in the office, in a kid's bedroom, in your dreams, you have to pick it up and get goofy with it. So how can you have more fun with something our DNA says is never not fun? By adding explosions like mad genius Colin Furze.
---
A buckyball is a single molecule of buckminsterfullerene, a form of fullerene that contains sixty carbon atoms arranged like a football. Now, scientists have discovered a way to convert buckyballs into deadly buckybombs and use them to take out entire armies of nasty viruses and bacteria.
---
It's not every day that the average person gets to blow something up at their job. Even rarer: Getting to blow up the neighbourhood where you used to live. But as Next City reports today, that's exactly what happened to the last remaining resident of an abandoned suburb that served as the testing ground for an experiment that may lead to safer, more earthquake-proof buildings.
---