Loading page
Video: Some fruits and vegetables blow up better than others. A pineapple? Looks fantastic because it sends shards everywhere. An onion? Hell yeah, the unravelling of layers is awesome. A cucumber explosion? Just OK because it gets blown to bits too quickly. Lemons are a little disappointing, too, because you'd expect a better shockwave reaction from the peel.
---
Yet another Samsung Galaxy Note 7 phone has exploded in a public place — an airport, in fact! — in the wake of an official recall from US regulators last month. The latest incident of an exploding Note 7 phone happened during the boarding process of Southwest Flight 994 to Baltimore at Louisville International Airport on Wednesday. The worst part: it was a replacement Galaxy Note 7.
---
Video: When you blow up a quarry that's 20m high with 68 tonnes of explosives, you turn the rock wall into a tsunami wave that sends nearly 363,000 tonnes of rocks flying everywhere. The blast of the Bremanger Quarry in Norway looks great because it was carefully planned, with explosives planted in 454 blast holes made along the 384m long rock wall.
---
Video: Every year around July 4 (surprise, surprise) the US Consumer Product Safety Commission puts on a graphic demonstration of why you should be really careful when setting off fireworks. The video of the demo arrived late this year, but if you're a fan of horror movies, it was still totally worth the wait.
---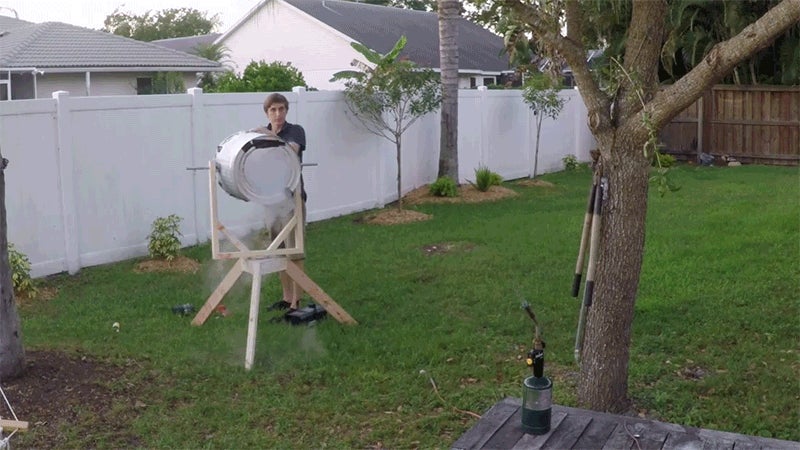 Video: Bigger is always better, but you can make anything even awesomer with the addition of fire. That's what Kevin Kohler, the Backyard Scientist, did with one of those vortex air cannon toys. He not only built one ten times larger, he also uses it to blast rings of propane gas towards an open flame to create spectacular flying rings of fire.
---
Video: Glass can explode, and seeing it happen in slow motion is damn incredible. The Slow Mo Guys pointed the Phantom V2511 high-speed camera at a Pyrex glass measuring cup that was heated with a torch and then doused in cold water to capture the exploding glass (something about the sudden temperature change isn't good with tempered glass) and you can see just how fast it blows up.
---
Loading page