Video: Who knew that rubber band balls could serve as an endless source of entertainment? Slow Mo Lab stuck a firecracker inside one of those balls and filmed it exploding in oh so sweet slow motion. It's like watching a mummy spontaneously combust right before our eyes.
---
Apparently, our New Year's Eve ain't got nothing on Chinese New Year in Beijing. This video was recorded on an aeroplane that was landing in Beijing at midnight of Chinese New Year and it shows all the fireworks going off at once across the city. It looks like every corner is firing off explosions at the same time.
---
It's raining down ash in Southern California, after an Exxon Mobil oil refinery exploded. The blast nearly leveled a processing unit and left four contractors with minor injuries. The local Torrance Fire Department says gasoline is to blame. Meanwhile, the aftermath looks like a scene from Blade Runner.
---
Video: Fruit may be the best thing to blow up because all that pulp, juice, seeds, peel, skin make for great gory guts in explosions. This slow-motion explosion of an orange is as good as explosions get. In fact, it almost looks like a mini version of our sun going supernova and exploding on itself.
---
You remember the sodium demo from chemistry class: Just a small chunk of the pure metal dropped into water causes a great big flash and bang. You might even remember your chemistry teacher's explanation for why. But there's always been a missing piece of the puzzle, which scientists have finally figured out using high-speed video cameras.
---
Video: That is one hell of a boom, which makes sense since it's an explosion of a factory of things that go boom. The explosion occurred in Colombia and injured two people. The initial blast knocked the cameraman over and the ensuing fireworks kept shooting out for a solid minute after that. It's pretty nuts.
---
How hard can it be to blow up a building? My childhood experience with knocking over waist-high towers of cardboard blocks leads me to say "not hard," but this botched job by a demolition team in Sevastopol suggests otherwise. I mean, come on guys.
---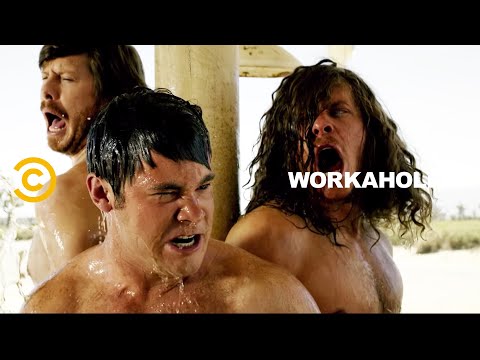 Workaholics is a funny TV show about slacker college friends who happen to be roommates who also happen to be co-workers and the hijinks they get into. Workaholics is not a show about guns and explosions and shootouts and strippers. But guess what the trailer for Season 5 is about? Yep. Guns and strippers.
---