Fresh off settling a lawsuit that accused it of collusion with publishers, Apple is ready to take the money you were planning to give to Amazon but can't. Since Amazon is in a fight with Hachette — the world's largest bookstore and one of the world's largest publishers respectively — and refuses to let customers pre-order any books from the publisher, Apple has stepped up to fill the void.
---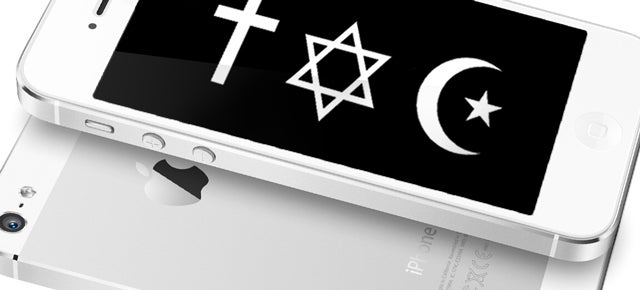 At this point, our entire lives could be boiled down into a series of apps. Schedules, diets, friends, family, play — it's all there in a set of brightly coloured, easy-to-digest icons that have come to define the way we see ourselves. And though it may be hard to reconcile, even religion is no more than a Google Play or App Store click away. The salvation of your eternal soul is now downloading.
---
In light of the holiday season, what better time than now to remind ourselves to give thanks for all that we have. Although, in the case of any digital goods you've "purchased," maybe don't add those to the list quite yet. Because remember: You don't actually own any of it.
---
Amazon's Kindle Fire and other ereaders are usually considered nails in the traditional independent bookstore's coffin. Amazon's flipping all that around, with a program that lets bookstores sell Kindle ereaders and make money off the ebooks their owners buy.
---
In this modern age of tablets and ereaders, it's always a little bit tough to decide whether to buy the hardcopy of a book or just go for the ebook. Now, you don't have to choose with the newly launched Kindle MatchBook service that offers cheap ebook versions of hardcopy books you've purchased on Amazon.
---
If you, like me, pored over the Steve Jobs biography (or perhaps over Jobs) looking for juicy tidbits about Apple's design culture, you likely were sorely disappointed. We know plenty about Jobs' mercurial management and even about his own aesthetic sensibilities, but for a company that's so devoted to design — heck, it even stamps "Designed by Apple in California" on its products — we know very little about the designers behind Apple's products.
---