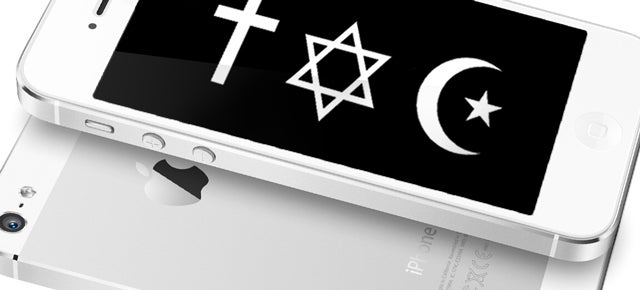 At this point, our entire lives could be boiled down into a series of apps. Schedules, diets, friends, family, play — it's all there in a set of brightly coloured, easy-to-digest icons that have come to define the way we see ourselves. And though it may be hard to reconcile, even religion is no more than a Google Play or App Store click away. The salvation of your eternal soul is now downloading.
---
In light of the holiday season, what better time than now to remind ourselves to give thanks for all that we have. Although, in the case of any digital goods you've "purchased," maybe don't add those to the list quite yet. Because remember: You don't actually own any of it.
---
Amazon's Kindle Fire and other ereaders are usually considered nails in the traditional independent bookstore's coffin. Amazon's flipping all that around, with a program that lets bookstores sell Kindle ereaders and make money off the ebooks their owners buy.
---
In this modern age of tablets and ereaders, it's always a little bit tough to decide whether to buy the hardcopy of a book or just go for the ebook. Now, you don't have to choose with the newly launched Kindle MatchBook service that offers cheap ebook versions of hardcopy books you've purchased on Amazon.
---
If you, like me, pored over the Steve Jobs biography (or perhaps over Jobs) looking for juicy tidbits about Apple's design culture, you likely were sorely disappointed. We know plenty about Jobs' mercurial management and even about his own aesthetic sensibilities, but for a company that's so devoted to design — heck, it even stamps "Designed by Apple in California" on its products — we know very little about the designers behind Apple's products.
---
It's easy to forget that owning something digitally is way different from owning it for real. And if you do forget, it can bite you in the arse. That's what happened to Jim O'Donnell when he traveled into Singapore and found that Google Play Books app on his iPad had up and deleted all his ebooks.
---
Apple is not happy with the US Department of Justice and friends. On Friday afternoon, just a few hours after the DOJ and 33 state attorneys-general proposed a series of remedies for Apple's anticompetitive behaviour over ebook pricing, the company struck back with some proposals of its own.
---
After a US District Court judged found Apple guilty of colluding with book publishers to fix the prices of ebooks last month, it was unclear what the actual consequences would be for the iPad-maker. Well with little pomp or circumstance, the US Department of Justice has just cleared that up, and it's not good for Apple.
---