---
There's a lot to know about Dubai's towering Burj Khalifa. Every creak and every inch is constantly monitored and explored. But sometimes you just want to see something lit up in all its glory. And that's the point where you get in a helicopter and go take some awesome night shots. You have access to a helicopter, right?
---
The beauty of Google Street View is it can take you to places you might never otherwise see. Now it includes the crazy panoramic view from the top of Dubai's Burj Khalifa.
---
Back in 2011 when Gerald Donovan filmed Dubai for 28 hours he made an incredible timelapse of it. But he couldn't leave well enough alone. After the limitless potential of the footage nagged at him for a few years he came back to it and made another beautiful version.
---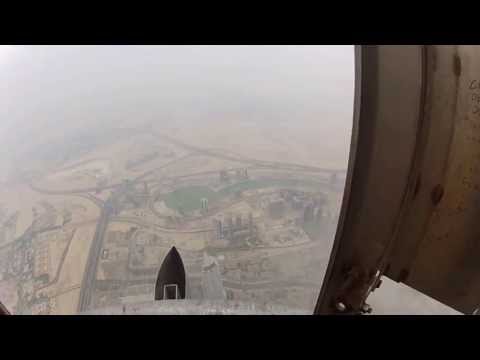 Dubai-based photographer Gerald Donovan went to the top of the tallest skyscraper in the world — the 830m tall Burj Khalifa — just in time to watch a sand storm engulfing the city. It wasn't a pleasant experience, but he captured it on this video.
---
Dubai's Burj Khalifa skyscraper is a lot of things: a testament to humankind's love of building humungous stuff for the hell of it. It's very shiny! And, in a bad storm, it sounds like it's about to fall apart.
---
Sometimes I think Dubai exists in its very own dimension, an alternative over-the-top world where everything has to be the best of the best. This amazing photograph by Gerald Donovan is proof: the biggest and tallest firework show in the world, shot on New Year's Eve 2013 at the Burj Khalifa, the highest man-made structure in the world at 830 metres.
---
Over the past fortnight, the internet has been awash with debate over the future of the internet: the UN, so the stories went, was planning to change the governance of the internet for good. Predictably, the US has point-blank refused to play ball — along with its lapdogs of Canada and the UK — and that stops proceeding dead.
---
With the WCIT-12 in full swing, it's pretty much inevitable that some countries' views on the internet and the direction they are trying to push it will leak out. In this case, the news is about a coalition led by Russia and China that aims to find ways to exert more government control over the 'net. Surprised?
---