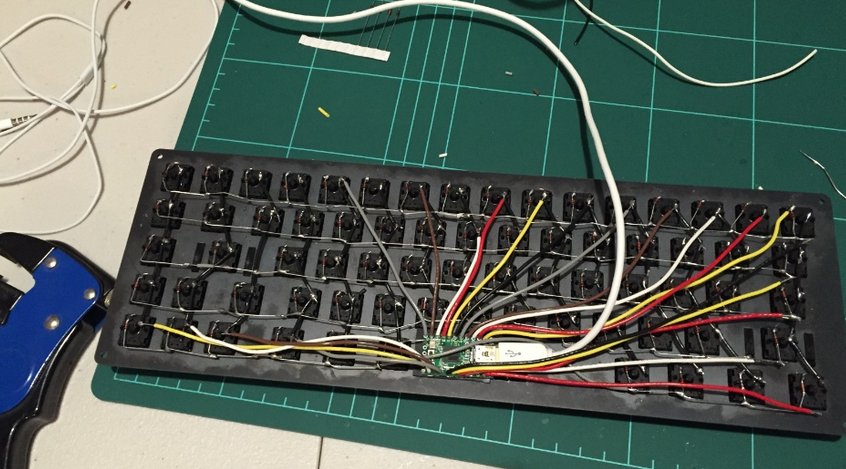 I made a keyboard — let me tell you about it! I'm even typing this post using the keyboard I built. How meta. This has been a fairly involved process so there is a lot to discuss. The main goal of this post is to talk people through the things I went through and what I wish I knew before I had started this project.
---
Vertical farms are all the rage, yet these systems are often expensive, messy and utterly impractical for most urban dwellers. The Robotic Urban Farm System (RUFS) by Better Living Through Robotics improves on nearly every shortfall of the typical system: it uses very little water, no soil, and is made from accessible, affordable parts, with instructions free online.
---
Sure, you could just download a weather app to see what conditions are like outside your front door, but where's the fun in that? Ken Kawamoto's Tempescope actually creates rain, clouds and simulated lightning right inside your house. It's the ultimate push notification.
---
After graduating from Harvard, Grace Choi decided that she wanted to target the makeup industry with a low-cost device that would actually let consumers simply print their own. And while she's working on perfecting (and raising the needed funding) to put her Mink printer into production, she's created a tutorial on how to hack a run-of-the-mill inkjet to actually print makeup.
---
In the aftermath of our annual ritual for receiving the newest and shiniest iPhones, let's not forget that even our slightly outdated phones are pretty nifty devices. With a cheap glass bead, a 3D-printed clip, and the camera of an old phone, scientists have made a powerful microscope with up to 1000x magnification. And, better yet, they have shared the instructions — all two steps of it.
---
A large-scale early warning system for California earthquakes should be rolling out soon — at least, as soon as the government funding kicks in. Until then, one of the scientists working on the prototype decided to turn his seismic knowledge into an at-home science project, designing this DIY earthquake alarm for about $US110.
---
When you find yourself in times of trouble, always remember: Don't cross the streams. Egon's ghostbusting words of wisdom still hold true today. Joey Shanks at PBS Digital Studios knows that. But he's risked total protonic reversal to show us how to recreate the glowing effects of everyone's favourite Slimer-busting backpacks using simple light painting techniques.
---
If arcades were part of your childhood, you've probably yearned for a cabinet of your own for playing classics like Pac-Man or Galaga. The only downside is they're not exactly portable, here's a better solution. This arcade cabinet stands just eight inches tall, so you can carry it anywhere, and it uses a Raspberry Pi to run the MAME emulator, so you can install countless classic games.
---
Last year, Gizmodo wrote about a Kickstarter for the Floyd Leg, an age-old, simple-as-nails clamp that turns whatever vaguely table-sized piece of material you choose into, well, an actual table. It was a refreshingly simple invention amidst the usual morass of insane vapourware and weird personal projects, and now it's a real thing you can buy.
---
YouTuber Andy Elliott (mist8k) stumbled upon an awesome DIY project. While "tinkering with a small electric engine," he describes in his video, "my audio jack accidentally came in contact with the engine…and started randomly playing music." Elliott unknowingly built his own speaker.
---