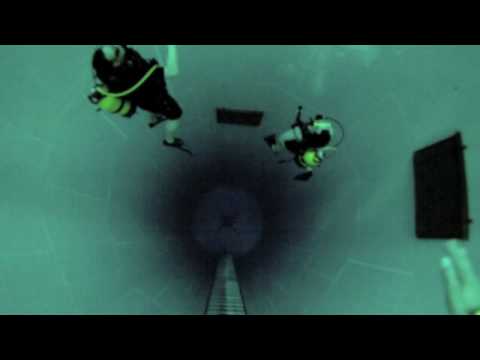 God help you if you have to get your PADI certification in a public pool — you're about to spend more than a few hours steeping in all sorts of fun bodily fluids. You're better off buying a plane ticket to Brussels, home of the deepest — and likely cleanest — indoor pool in the world.
---
So, you want to become an aquanaut? Do you have the right stuff? What is the right stuff? Do you even know what an Aquanaut is? According to Saul Rosser, Operations Director at Aquarius undersea research base, An aquanaut is a diver that lives under the water for 24 hours or more using saturation diving techniques and an underwater habitat to sleep, eat and work between dives.
---
---
The first time humans descended to the deepest spot on Earth, they were joined by a rare Rolex specially designed to withstand the immense pressures under water. And now that James Cameron plans to go deeper, Rolex wants to tag along again.
---
Rolex is known for its industrial-strength Submariner dive watches that can take more of a licking than a Timex. But Tudor, Rolex's baby brother, might steal its thunder with a watch that tightens around a diver's wrist the deeper they go.
---
James Cameron has long been a filmmaker who embraced the latest technologies, but his newest toy, the Deepsea Challenger, is a submarine that's capable of diving to the deepest part of the ocean, also known as the Challenger Deep.
---
Before we had ALVIN — or proper submarines for that matter — the best way to get to the seafloor was by using a diving bell. Originally made from recycled church bells, these diving apparatuses protected their passengers from the murky depths in a bubble of air. Our friends at Oobject have assembled nine of the best.
---
Turns out that, aside from the drill-arm, Big Daddies aren't that far off from the real thing. Our friends at Oobject have assembled 12 of the toughest examples of deep-sea diving suits around — from da Vinci's cloth prototypes to the bell helmets made famous by countless Scooby-Doo villains.
---