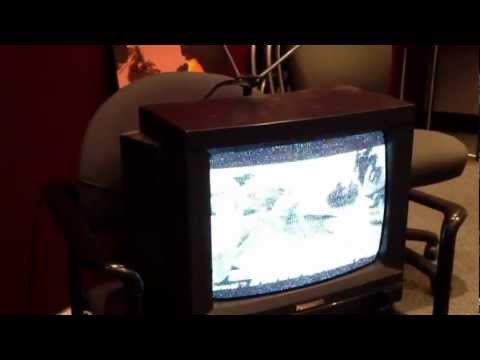 Adelaide has this morning undergone its analogue TV switch-off, meaning that all of your elderly relatives have probably left messages for you asking why their TV doesn't work anymore. It's a digital-only world in the City Of Churches now, and a few enterprising folk captured the moment that the analogue signal died.
---
Newsweek's 90th anniversary will be next February, but you won't be able to find a commemorative issue in newsstands or in your mailbox. After December 31, the weekly magazine will cease to be anything more than bits downloaded to your iPad. It's the end of an era for one of America's most stalwart weeklies, but don't think for a second that it heralds the end of print.
---
30 years ago today, workers in a factory outside of Hanover, Germany played host to executives from Polygram, Sony and Philips. These executives were here to see something they knew was going to be special. After a while, they were handed a small, circular disc. These executives were holding the first Compact Disc ever pressed. 30 years have passed since that day, and now, on the technology's 30th birthday, we take a look back at how it became one of the world's most popular formats.
---
The news that Kodak is pulling out of the hardware market — excepting printers — for good means that, effectively, Kodak is dead. Is this the death knell for the compact digital?
---
Long before the Today Show, Richard Wilkins brought MTV to Australia as a program on Channel 9. This video from around 1988 is as charming as it is naive. It's the early days of electronic music when sampling was considered theft. Beastie Boys, Ice T, Fresh Prince — sorry, Will Smith — Jazzy Jeff, Cold Cut, De La Soul and even Debbie Gibson try and get to the bottom of the question "is sampling art or stealing?"
---
While I have my home's wooden floor covered in Chinese, Persian and Turkish rugs, I'd love to exchange them all for digital interactive rugs like this. One of them full of swimming crocodiles. [Buzzfeed]
---
Melbournites! Head to the streets and you might be in for a culture shock, or for that matter a pleasant surprise, as the city's hosting its first digital arts festival, titled Pause Fest.
---
Another digital set-top box… yawn… but… hang on. This set-top box won't take my jaded indifference — it talks back, and for a very good reason.
---