 Video: I don't especially love pistachio. I don't go crazy over tiramisu. Heck, I don't always have the sweet tooth hankering normal humans have for dessert and yet after watching this pistachio tiramisu get made, I can't help but feel as if my taste buds have all banded together demanding that I eat this right now. It looks so good.
---
I don't know if I'm hungry or turned on right now and it's such a weird mix of feelings to experience at the same time. The close up shots of this Chocolate Framboise Mille-Feuille is borderline explicit and yet it's just food being whisked and dolloped, whipped and dripped around. It's artful pornography you can eat.
---
Making ice cream is pretty easy: Basically, all you do is churn some milk and sugar in an ice-cold container. Usually, that container is a tub-shaped thing with a crank, but it could take any shape. Even, say, a ball you kick around. Now you'll really make sure the kids got enough exercise before dessert.
---
The way we cut cakes is wrong. That old traditional style of slicing a wedge and leaving the rest? It ruins the cake and creates imperfect slices. How can we cut it better? How can we eat more delicious cake? Numberphile says the most scientific way to cut a cake is to slice an entire strip from the middle of the cake. That way it keeps the cake perfectly moist and delicious.
---
Dominique Ansel, the Willy Wonka of desserts and creator of the Cronut, has announced his latest imagination busting, tastebud oozing creation: The Waffogato. It takes the delicious affogato, which is basically ice cream topped with espresso, but remixes it by making the ice cream a waffle made from ice cream and mixed with Belgium waffle bits, tapioca balls and a bit of salt.
---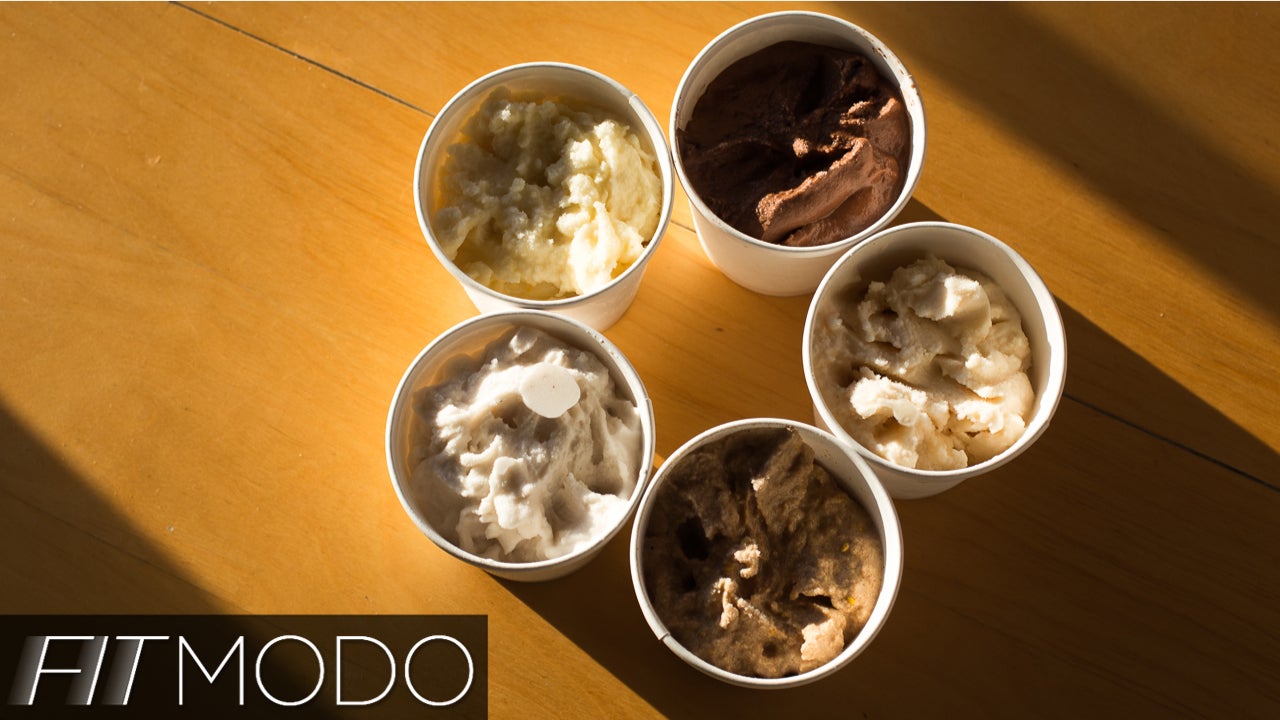 Back during the no-carb diet craze of the early 2000s, I joked that I wanted to try a diet consisting of nothing but carbs and lipids. I would call it the Fatkins Diet. Guess what? I just did exactly that. I ate ice cream, and only ice cream, for four days straight. Yes, it's the world's first Ice Cream Cleanse, and no, I didn't just make it up.
---
Looking for the perfect gift for the artist in your family? Look no further than this new paint kit designed by the Japanese product and furniture studio Nendo. Except it's not really a paint kit. Instead of foil, the tubes are made chocolate, and instead of being filled with paint, they're filled with yummy syrups.
---
There are certain things we like at Gizmodo HQ. Instagram is one. Chocolate is another. Oh, if only they could somehow be combined without getting goo in your phone. Oh, wait, they can! Meet Cocoagraph. Vintage-style photos, printed on delicious chocolate squares. Yes, please?
---
Your mother, doctors and life lied to you. According to scientists (science, people!), combining a low-calorie diet that includes dessert for breakfast will help you lose weight. Sweets, cookies, creme brulee, cake. ALL OF IT will help you lose weight if you start your day off like that. I love breakfast now.
---