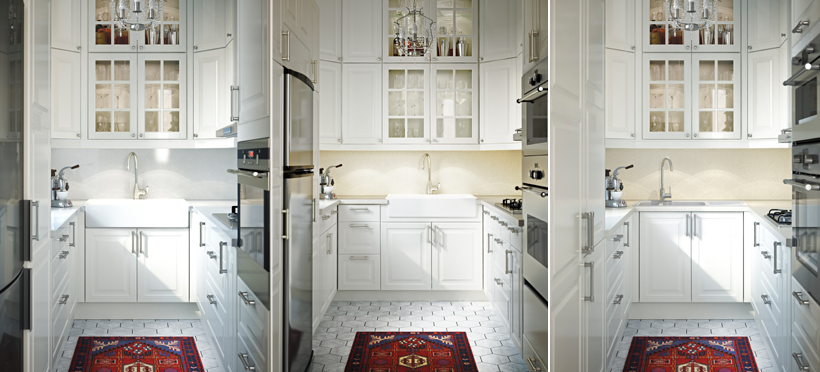 The rooms in IKEA's catalogues may look like wonderlands of inexpensive furniture, but they're mostly computer generated. Like, 75 per cent computer generated. The Swedish juggernaut has experimented with CG product shots for almost a decade now, and it's getting incredibly good at it. But it's far from the only company doing it.
---
If you're what many would consider a coffee "snob", you might prefer to brew your elixir using the manual pour-over method for ultimate control. This Norwegian machine provides the convenience of automation with the quality of a pour-over in one pretty striking package.
---
It's that time of year: If you're one of the hundreds of millions of people on IKEA's mailing list, you probably recently received a thick square of super-thin paper filled with (mostly rendered) products. IKEA has been sending these babies out for more than six decades — and you can follow the evolution of popular design just by looking at them.
---
Amazon has built its brand around consistency — it rarely follows popular user interface trends, and its design mission has always been ruthless pragmatism. But now, for the first time in many, many years, it's given its login page an overhaul. It's the end of an era, and it could signal broader, site-wide changes.
---
Apple's been on a tear to protect the look of its retail experiences, trademarking the design of its stores and patenting its proprietary see-through staircases. Now its glass cube flagship store in Manhattan is officially a patented design in the US, with "Steve P. Jobs" listed as one of the inventors.
---
There are an infinite number of ways to do a marriage proposal. Regardless of what comes before, many of them climax in the big reveal of a fancy ring in a bulbous velvet box that, while traditionally classy, isn't exactly discrete. Packaging designer Andrew Zo streamlined that somewhat clunky exterior into Clifton, a clever, leather-bound pop up the size of a credit card.
---
Cities, like living things, evolve slowly over time. Buildings and structures get added and renovated and removed, and in this process, bits and pieces that get left behind. Vestiges. Just as humans have tailbones and whales have pelvic bones, cities have doors that open into a limb-breaking drop, segments of fences that anyone can walk around, and pipes that carry nothing at all.
---
The last time we checked in with Plebian Design and Hypersonic, the creative teams had installed an interactive map chandelier in Washington DC that glowed in time with different data sets. For their latest trick, they turned the lobby of a Cambridge, Massachusetts-based biotech company into a similarly mind-bending, shape-shifting display.
---