Let's be honest: Most robots look pretty dumb these days. Whether it's the little disk-shaped Roomba that cleans your floor or the jumble of rods and wires that builds your car, these machines seem — for lack of a better term — rudimentary. Not the Valkyrie.
---
For all the futuristic advancements packed into modern space-based telescopes, they all still rely on the same bulky, heavy glass optics that Galileo used centuries ago. But thanks to this DARPA project, future telescopes could eventually use optics as thin as saran wrap to peer into deep space.
---
Picture this: In the near future, 10 per cent of US veterans could be walking around with chips implanted in their brains. These aren't intended for some I, Robot-style takeover, but rather to treat conditions like PTSD and substance abuse. Sound crazy? DARPA only deals in crazy.
---
Sometimes, throwing money at problems works. As the Pentagon continues to struggle with cybersecurity, its sci-fi-like R&D department, DARPA, is ready to start writing cheques. The agency just announced a competition to build a "fully automated cyber defence system". The grand prize? $US2 million.
---
As we creep closer to the Robotics Challenge officially getting under way, Boston Dynamics gives us another glimpse of its DARPA-funded ATLAS robot being tested in the lab. This time we get to see the unsettling peek at our future carefully tip-toeing its away across a rock-strewn simulated debris field, with surprising ease and balance.
---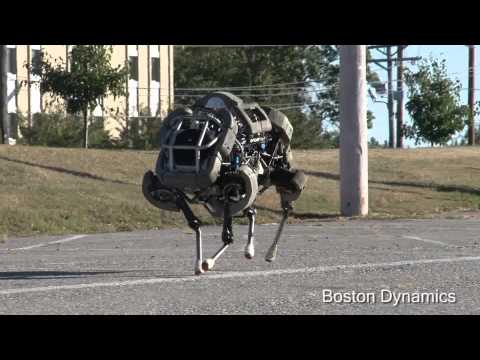 Last year, DARPA unveiled Cheetah: a robot that could run faster than Usain Bolt. Now, the same team has managed to create a version that doesn't need a power cord, making the electronic beast free to roam wherever it chooses. Be afraid. Be very afraid.
---
---