Video: Walking around in San Francisco can get tough because the city is just so damn hilly. Up and down and up and more up and you start to wish you could just flatten the streets. Karen Cheng and Ross Ching tweaked reality a bit by positioning the camera so it looks like those hilly streets became flat and then made this video to mess with your brain as you see the world and the people bend on those flattened streets.
---
Video: I can barely keep track of what's going on in each scene of this video by AXYZM because everyone is moving in such perfectly orchestrated movements that my eyeballs just start spinning trying to keep track. It's like seeing human kaleidoscopes shift around or mirrored clones mimicking each other.
---
On Earth Day — which was yesterday, in case you missed it — there's a lot be happy about. Enough to encourage Tim Cook on to the dance floor, in fact. Joined by Eddie Cue and Phil Schiller, the Apple CEO danced to Happy — played live by Pharrell, naturally. This is Apple HQ after all. The result is really quite sweet. [Stephen Murphy via Verge]
---
I can just close my eyes and listen to the sounds of this video about Swan Lake and The Royal Danish Ballet. Or I can just mute the audio and watch the visuals of the ballerinas. No matter how I watch this video, I always walk away impressed with the intense dedication and sacrifice. It's so satisfying to see.
---
Damn. This video of a dancer in a light suit is like staring into a future that us humans chained to the present aren't supposed to see. The dancing is fun to watch, of course, but there's something about that black and white light up suit moving in those ways that is just jarring and completely warps my view of reality.
---
We're just faceless shapes made of dots and lines and nodes to a computer. And that's kind of awesome. This experimental project by Maria Takeuchi uses Microsoft Kinect to capture the motion data of a dancer and then rebuilds those movements into a stunning dancing body made of dots and lines and nodes.
---
Video: Dancer Madd Chadd is so, so good at doing the robot that he actually looks more like a frighteningly realistic robot pretending to be a human than a human dancing like a robot. In this latest video, he's sitting down and attempting to eat a sandwich like a robot would and it looks absolutely perfect.
---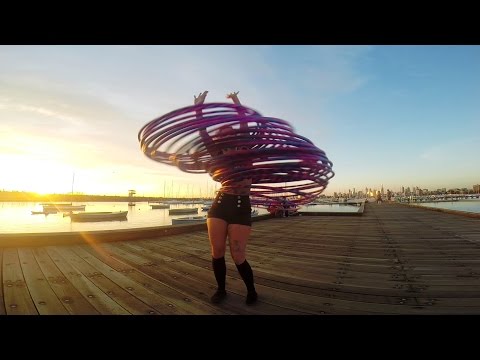 ---