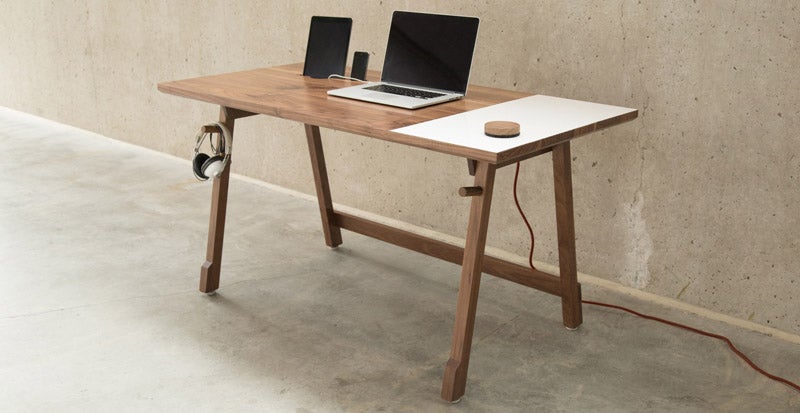 Man, it feels good to sit down at a desk where everything is in order — or so I've heard. Mine is always a disaster, what with the cords and cables and scattered reminder notes I've scrawled on bits of paper that will undoubtedly get lost in the shuffle. But this lovely specimen from Artifox looks like it would seriously help whip things into shape.
---
Random text files can get deleted, sticky notes can go missing, but the chances that this seven-inch ceramic elephant goes missing from your desk are slim to nil — who would dare steal such a thing? And that's why it makes for the perfect spot to quickly jot notes and things that need remembering. Well, that and it functions like an erasable whiteboard.
---
The lights strapped to your bike only keep you safe at night as long as they're visible. When they die, you're just another shadow that drivers barely notice. So not only does the rechargeable Eagle 600 boast a whopping 600 lumens of light, it also has a built-in OLED display letting you know exactly how much longer it will stay lit.
---
A large sheet of plywood isn't necessarily heavy, but its massive dimensions can certainly make it unwieldy to carry. And since there's nothing wrong with the whole "work smarter not harder" mentality, this gravity-powered clamping trolley makes it super easy to just roll everything from sheets of wood, to drywall, to basically anything that will fit inside its grasp.
---
For some people, exercise and working out is a way to keep their bodies fit and trim. But for most of us, it's just a way to feel less guilty when we overindulge. So to stay inspired to make it all the way through your next yoga class, keep your gear in this giant burrito bag that provides a delicious-looking reminder of just one of the indulgences you're working towards.
---