Loading page
Video: Not treating fireworks — AKA explosives — with the respect they deserve is one of the most dangerous thing you can do. So after a couple of pranksters in Phoenix, Arizona, thought it would be funny to start a chain reaction on a shelf full of fireworks in a Walmart, humanity has reached a new low.
---
For years, the Secret Service has been tracking down the legendary "Russian-Israeli Note", one of the most sophisticated and common fake Benjamins ever made. This high-tech international ring was finally busted and indicted this week, thanks to years of good old-fashioned surveillance and legwork.
---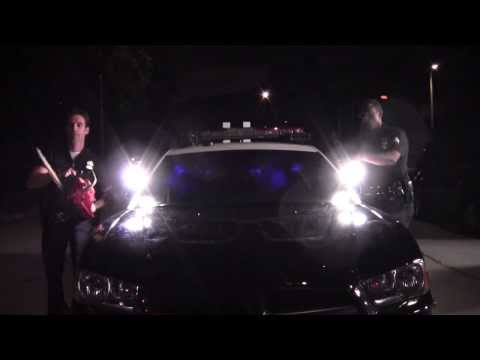 The big problem in northeast LA right now is that people keep leaving their car doors unlocked at night and stuff is getting stolen. LAPD's solution? 7-minute DIY zombie movie. Perfect.
---
Committing insurance fraud, mail or otherwise, is universally a fairly dumb thing to do — especially when your plan is literally designed to fail. Like, say, that of 29-year-old idiot Nathan Meunch and friend. Because if you're trying to pass off a soggy, dripping cardboard box stuffed with ice as a $4000 stack of iPads, chances are — you're getting caught.
---
After a US District Court judged found Apple guilty of colluding with book publishers to fix the prices of ebooks last month, it was unclear what the actual consequences would be for the iPad-maker. Well with little pomp or circumstance, the US Department of Justice has just cleared that up, and it's not good for Apple.
---
We're already well aware of the damage malware can do to your machine, but apparently, guilty consciences don't fare all that well either. At least not for one 21-year-old man who, after getting a fake pop-up demanding a fine for the child pornography on his computer, decided to take his laptop straight to the police — and was then promptly arrested on three counts of possession of child pornography.
---
Every sci-fi movie about inventions rising up to take over the world is built upon one unchangeable seed crystal: the moment when the technology does something its inventors never predicted. As The Verge reports, that's exactly what happened to Google engineers in 2010, with a truth-and-justice twist — Google's AdWords software exposed a Chinese car theft scam.
---
Imagine you're the police. Imagine you're in your police car. Imagine eating a doughnut. Imagine complaining about life to your partner. Imagine seeing a car with two obviously blown tyres drive by. Imagine pulling that car over. Imagine seeing that the driver driving the car was using a makeshift steering wheel made from… locking pliers.
---
Loading page