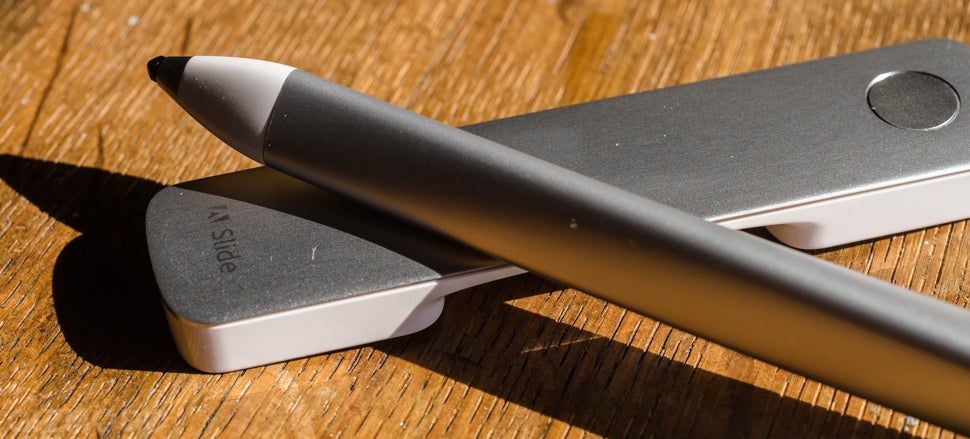 Last year, Adobe took its first foray into the hardware world with two cutely named digital drawing devices, projects Mighty and Napoleon. The software giant is now ready to launch the fully formed duo under new monikers. Meet Ink and Slide. They're (mostly) pretty great.
---
Adobe has released three new iPad-only creative apps today. There are two drafting and sketching apps that are partnered with some neat hardware, and a robust photo editing app called Photoshop Mix, which borrows some of the tools and workflow from its desktop big brother.
---
Everyone with a cool new idea or vision wants a concise and beautiful video to illustrate their story and broadcast it to the world. But, oh, right — you suck at all things visual and just learned how to make something move in After Effects. Adobe's new iPad app, Voice, is there to hold your hand in the making of presentation videos.
---
Today, Adobe announced the latest round of updates to its ubiquitous software suite, with its Creative Cloud subscription service taking center-stage. Not only is the old Creative Suite moniker being dropped completely, but a whole slew of cloud-dependent features were introduced. While the updates will be a boon to a huge number of Adobe customers, it's going to annoy the hell out of one core Adobe demo: the pirates.
---
At Adobe's annual MAX conference today, the company announced a major overhaul of the 10-year-old Creative Suite, which will now be known as Creative Cloud. From now on, you won't buy CS6 or CS7 — you'll buy a $50 per month subscription to CC (happily, the first year will only cost $30 for anyone with a CS3 or later serial number).
---
Late yesterday, we brought you the news that Adobe had buckled under the pressure of the Australia Tax inquiry brought on by the government and lowered local pricing to bring it more in line with US counterparts. You might thank benevolent Adobe for finally coming around to our way of thinking, but I'm here to tell you why you should be as angry with them as ever.
---