Video: You probably have to be a little crazy to be a pole vaulter. I mean, what normal person wants to catapult their bodies as high as possible? This GoPro footage of pole vaulter Allison Stokke filmed from her point of view confirms the crazy and shows the violent movements and perfect grace necessary to make each jump.
---
Holy crap. I'm pretty sure the fence separating the tigers from the humans does absolutely nothing because these tigers can easily out jump it. Look at them gracefully fly in the air and snatch the meat like a wide receiver catching a touchdown pass. These beasts are basically basically comic book superhero versions of regular cats.
---
A Virgin Atlantic Boeing 747-400 had to make an emergency landing at Gatwick Airport, London, when its right landing gear got stuck. Amazingly enough, the pilots managed to keep control with only three of the four gears in place.
---
It never ceases to amaze me how people insist on breaking their necks or getting spinal cord injuries by jumping off vertical slopes on top of heavy snowmobiles. The guys on the video below just keep going for it in some rather crazy drops.
---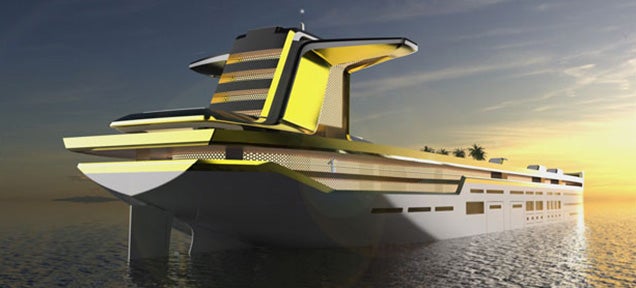 This is Imāra, a 918-foot (280-meter) long, 187-foot (57 meter) 11-deck luxury giga-yacht. Today it is only a concept by yacht design shop Motion Code: Blue — but not for long. They are aiming it to their Middle East clients. I'm sure Arab princes and Russian oligarchs are grabbing their diamond-encrusted phones right now.
---
Video: Another proof that H1 Unlimited Hydroplane boat racing is insanely dangerous — one wave, one mistake, and you will be launched into the sky with enormous violence. Fortunately, most often nobody dies — although it has happened before. This video of a backflip with multiple loops is spectacular.
--- That's some serious skill. Not only is the plane landing in the mountains, it's also in the middle of the forest. Not only is it in the middle of the forest but the runway is incredibly narrow. Not only is the runway narrow but it's a bumpy arse strip of dirt too. So yeah. That is some serious skill.
---