 That's some serious skill. Not only is the plane landing in the mountains, it's also in the middle of the forest. Not only is it in the middle of the forest but the runway is incredibly narrow. Not only is the runway narrow but it's a bumpy arse strip of dirt too. So yeah. That is some serious skill.
---
If you think Red Bull gives you wings, or that buying a GoPro makes your life awesome, I think these tiny little gosling chicks have something to tell you: Mother Nature doesn't need that for thrills. Look at them 'base jump' off a 120m cliff 'without a parachute' and hit the side of the mountain and still survive.
---
Video: We've seen daredevil Scotty Bob fly so close to the trees that he probably had to remove the twigs from his wingsuit with tweezers. We saw him fly so close to a cliff that he could high five a man sitting on the edge. And now we see him fly so close to the rocks that he could light a match on them.
---
Video: If there is such thing as a perfect motorcycle accident, this might be it: a motorcyclist crashes full speed into a car that's changing lanes. That's bad. The crash launches his body into a spinning mess in the air. That's definitely bad. But yet somehow he manages to flip and land standing up on the car's roof.
---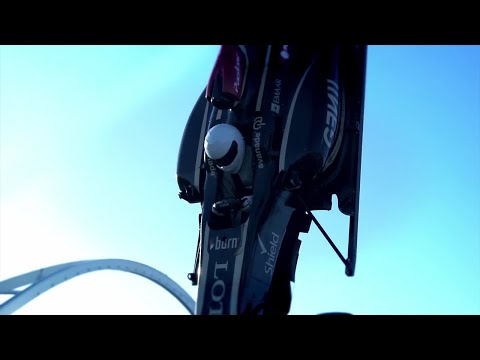 Here's video from Top Gear showing the Stig making a 300 foot bungee jump while strapped inside a F1 car. It's exhilarating and completely nuts but must have been so ridiculously fun to do. Sometimes, just bungee jumping or just driving an F1 car isn't enough. You gotta do both at the same time.
---
Video: CineFix has cooked up a list showing off the top 10 movie stunts of all time. They're all fantastic and involve groundbreaking scenes where actors fight and jump off buildings, stuntmen fly, cars flip over and everyone defies death. They're all ridiculous stunts that are epically unreal in scale but manage to make your palms sweaty and heart pound when you watch them.
---