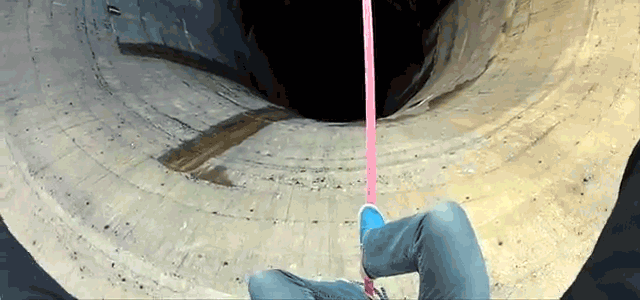 Flaviu Cernescu is a daredevil who likes to walk slacklines and tightropes, as well as driving his monocycle on the craziest high places. This video shows one of his fearless antics over a 60m deep reservoir drain in Lake Iovanu, Romania. I feel like passing out every time I look at it.
---
Cyclists in Budapest, Hungary, can be as insane as in the rest of the world. Or even a bit more, judging from this video in which two guys — one from New York, truth be told — risk their lives going through the thin trenches crated by running trams.
---
Here's another heartbeat-accelerating video courtesy of your usual bunch of suicidal Russians: Ropejumping off the rock walls of North Nassrani, in Jordan. The crazy thing about ropejumping is that you really risk your physical integrity by doing it.
---
At last, someone put together a cool compilation of the best wingsuit flight videos. It's full of crazy people flying through tight mountain holes and gliding dangerously close to sharp rocks at full speed.
---
Christ. An awesome lunatic wasn't happy with just dragging his knee while making a high speed motorcycle turn so he decided to lay his head and drag that on the gravel too. Because, well, there's nothing cooler (or more out there) than scraping your noggin' on the street while going well past the reasonable speed limit of a turn. To be honest though, it does look kind of cool.
---