Loading page
Video: Technology has made many aspects of our lives easier, but at the same time incredibly chaotic with non-stop emails, social media posts and electronic alerts. If you've ever thought about walking away from it all, disconnecting and living a simpler life, watching this guy build his family a log cabin from scratch will be your tipping point.
---
Video: The inside of a wooden surfboard looks like the skeleton of a fish. And it only gets more beautiful from there. The entire process of making a surfboard from wood (most surfboards are made from foam and fibreglass) is so fun to see. There is so much carving and shaping and clamping and an obscene amount of glue that you wonder why someone would bother to do this. But the hollow wood surfboard ends up being so beautiful and natural that you see that it's totally worth it.
---
The craftsmanship of candy. The art of an edible cup. The carving of a jawbreaker into a shot glass. It's a thing that you never thought would make any sense but once the jawbreaker starts spinning on the lathe and getting shaved down to expose the different layers of its colours, you realise that all shot glasses should be made from candy now.
--- ---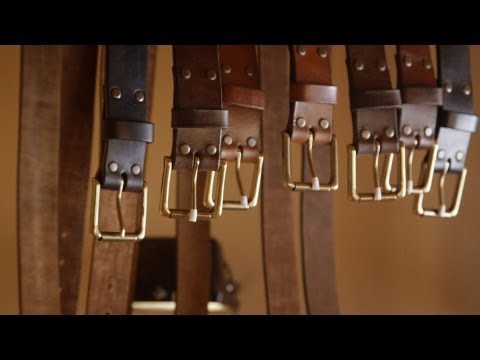 A belt is so simple — it's just fabric that ties together to hold up your pants. But in this video, you see how considered the process of making a leather belt is. Each feature of the belt, whether it be the holes or the rivets or the buckle or the colour, is carefully handled and made. I love watching this much attention to work.
---
Loading page