As far as movie sidekicks go, it's hard to find one as invaluable as Star War's R2-D2 was. That little droid was always in the right place, at the right time, with the right tool to save the day. And that now includes your kitchen with this R2-D2 measuring cup set that helps ensure your baking ingredients are always perfectly proportioned.
---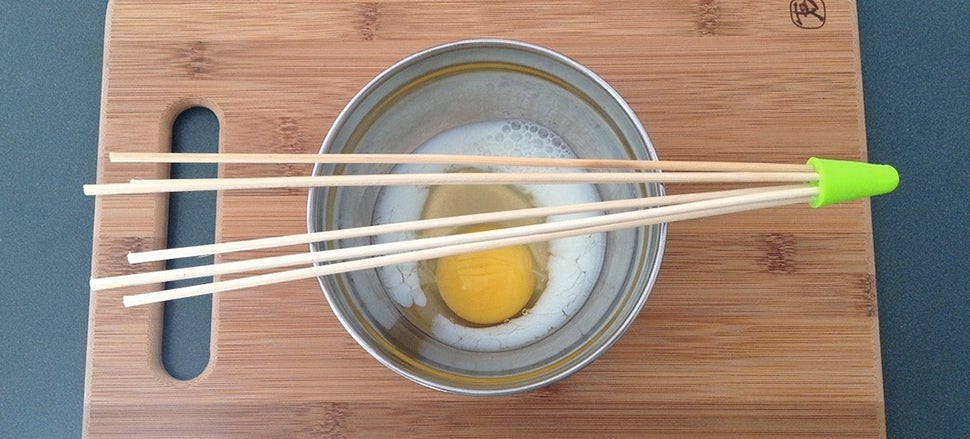 If there's one tool that's a necessary evil in your kitchen it's the whisk. Its ability to blend and whip is matched only by its resistance to being cleaned. But if you have access to a 3D printer and a bag of bamboo skewers, this simple adaptor could mean you'll never have to clean out the nook and crannies on a whisk ever again.
---
A box grater provides more stability and grip when you're turning a chunk of cheddar into shredded cheese, but they pose some challenges when it comes to cleaning and storage. So as the name implies, the Flexy grater starts off flat but can be rolled into a three-dimensional shredder, so it's easy to hold and can be slipped into the shallowest of drawers.
---
I know I will never use Google Glass until it becomes an invisible part of my eyeglasses, but I just realised that teaching people how to cook may be a great application for it. Imagine it: Instead of having to look at your tablet or laptop, you can follow recipes without taking your eyes from your hands. So easy.
---
You're already staring down a sink full of dirty dishes after cooking dinner, the last thing you need is to have to clean the stove too after a pot boils over. And while your cookware probably came with lids already suitable to the task, there's no way they're as fun as this silicone lid featuring a tiny steaming ship.
---
It's a while since IBM's Watson was put to work inventing recipes, but now the fruits of its labours are being cooked up and served out of IBM's new food truck. And the results are… interesting.
---
I have a confession: My brother and I destroyed my Easy-Bake Oven. I had the 1981 Mini-Wave model, the boxy, yellow microwave style, which was, in my seven-year-old mind, the only kind of Easy-Bake there was. One day, my four-year-old brother had a brilliant idea — to "cook" a green plastic steak from our 1972 Mattel Tuff Stuff Play Food set. After all, we should be able to cook a steak, right?
---