The internet is a fire hydrant of content. Keeping track of the pages you enjoy is a pain. A team of UK design students has a conceptual solution: Amoeba, an electronic monocle that files away the pages you find most interesting, as measured by your biofeedback response. It's the emotion-tracking Google Glass you always wanted!
---
At one time, the military actually tried to develop inflatable planes that were strong enough to fly but easy to transport. Those never materialised, but the technology involved — a drop-stitch fabric that can be inflated to very high pressures — has enabled Volvo to create an inflatable child car seat that's just as safe as everything already on the market.
---
No one likes a backseat griller, especially if you've spent years perfecting your BBQ craft. But a little coaching can help avoid turning steak into charcoal for those starting out. Lynx's voice-activated Smart Grill will actually ask you what's going on the barbie so it can then recommend the perfect setting, placement and grill times — no fathers-in-law required.
---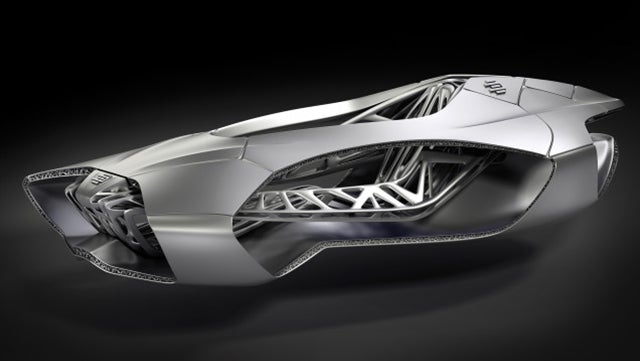 This is apparently the future of car design. It's a future where cars are printed by massive industrial machines in a single piece, with hollow construction used to save weight and space and materials wherever possible. We won't see 3D printing technology at this scale for quite a while, but at least someone is thinking ahead.
---
With 7000 tractor trailers currently in its fleet, it makes sense that Walmart would have a vested interest in designing more efficient delivery vehicles. The company's new ultra-aerodynamic Walmart Advanced Vehicle Experience — or WAVE — concept is lighter and more fuel efficient than other trucks on the market, and can run on almost any fuel short of nuclear power.
---
As useful as an umbrella is for staying dry when it's pouring rain, they can be a pain to deal with when you get back inside and they're soaking wet. But designers Liang-Hock Poh and Ming-Hung Lin realised that by simply making the umbrella's handle flexible, it was far easier to hang somewhere for drying, and easier to carry with you.
---
Touchscreen displays in our cars aren't going away anytime soon. So designer Matthaeus Krenn figured that now was as good a time as any to radically improve their interfaces, replacing grids of ugly buttons and options with an elegant and minimal multi-touch UI — -that the driver doesn't need to look at.
---
Oculus Rift is amazing in that it lets you experience other worlds beautifully and immersively. And, in this project by BeAnotherLabs, it's letting users experience a few minutes as the opposite gender. (Warning: some nudity ahead).
---
---