The public service announcement is emotionally manipulative and strategically pulls at the most basic things everyone likes (cute kids! young love!) and might even be scripted and is definitely edited nicely but still, the message is something that even children know to be true: Domestic violence is not OK.
---
Johnnie Walker has a pretty neat commercial on air these days that covers seven different backgrounds in just one long take. It's a well choreographed and perfectly timed spot, a man is at a bar and starts walking. As he moves along, the scenery changes along with him to give him a wild journey until he's back at the bar.
---
An effective commercial doesn't necessarily have to be a multi-million dollar production. Remember that Nike ad with Tiger Woods bouncing a golf ball on his club? It was supposed to be completely different until the director saw his skills on set. VW had similar luck with this ad made with nothing but an action cam attached to the spinning wheel of a driving car.
---
Video: They have been parodied ad nauseam already, but Mattel delivers what is possibly the definitive spoof of Matthew McConaughey's Lincoln ads. Driving a pint-sized Ford F-150 pickup, this kid seems like he's been pitching Power Wheels long before anyone paid him to pitch one. All that's missing is that smooth southern drawl.
---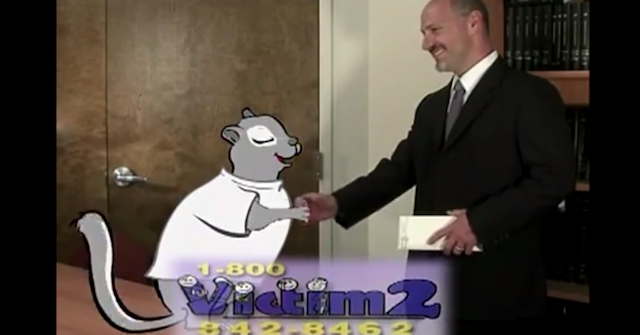 When it's three o'clock in the morning and everything is going wrong in your life, there's a certain kind of ad you might see on basic cable. Lawyers — usually guys — promise to battle the heartless, tight-wad insurance companies on your behalf. There's disaster footage and stiff readings off of cue cards. The ads look like they were made in a high school computer class.
---
---
This moving commercial about Bell's whisky does more in two minutes than most movies do in two hours. Give it a try. I went in expecting nothing — I mean, it's a commercial! — and walked away gently holding my heart. It's definitely better than any commercial that aired during the Super Bowl and probably more heartwarming than some Oscar movies.
---
If there's one thing Sony knows how to do, it's sell its technology with cool imagery. In past commercials the company has blasted buildings with paint, sent millions of rubber balls bouncing down a street, and even unleashed a small army of Play-Doh bunnies. But this time around, Sony's dumping eight million flowers — three-and-a-half tons worth of petals — into a volcano and onto a small town to sell its 4K TVs in the UK.
---