If there is no snow to snowboard it only makes sense to hook yourself onto a helicopter and take your snowboarding to the clouds. Watch as stuntman Wildman Adrian Cenni carves on clouds 1800m in the air while the helicopter flings him around at 130km/h. It looks so sick. Like a human Silver Surfer or something.
---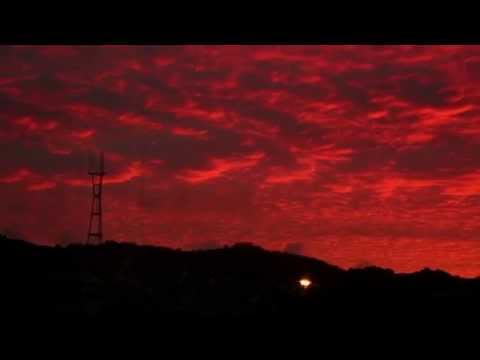 Video: Welcome to our post-apocalyptic world. You can find the last remaining civilisation in San Francisco. Or something like that. It's startling how much this simple time lapse of a San Francisco sunset makes it look like nuclear bombs have gone off and destroyed everything we know. But, nope, just a normal sunset in the bay.
---
Back in August we happened upon what quickly became our favourite browser extension: Cloud to Butt Plus. And now that we've had a good six months to live in a world where every instance of "cloud" on the internet is replaced with the word "butt", we've amassed quite a collection of clippings. It is glorious to behold.
---
Video: This is cool. A timelapse, aptly named Highway in the Sky by the guy who filmed it, shows how different layers of clouds in the same sky can actually move in completely different directions. It's like seeing clouds respect different flows of traffic. It's like seeing multiple skies in one. It's like staring at a computer program in the sky.
---
Video: Sometimes, you get a unique combination of circumstances that produces a rare look into a common event, like this Emirates' Airbus A380 arriving to Amsterdam's Schiphol airport at the perfect time and the perfect angle to produce a few seconds of beautiful cinematography, cutting a cloud in two.
---
Earlier today, we asked you to tell us about all your favourite Chrome extensions. And while the ultimate winners will be revealed at a later date, Gizmodo reader pacguy has introduced us to one sparkling diamond of an extension that, frankly, would be an injustice to keep hidden. Friends, you need to install Cloud to Butt Plus immediately.
---
Looking at these time-lapse videos of Undulatus asperatus — a cloud formation proposed as separate cloud classification in 2009 — look like the ocean's surface in a stormy day as seen from under the water. They also look like those scenes in sci-fi movies, when something really bad is coming to kill us all from the sky.
---