A toasty pair of knitted mittens will certainly keep your hands warm in winter, but what about the rest of you? In addition to a parka and long underwear, nothing helps your body fight freezing temps like a belt of bourbon, or a shot of whiskey. And no matter where you are, you can secretly nip at the hooch with these flask-packing mittens.
---
It might get the stank and stains out, but every trip through the washing machine takes a toll on your clothing, wearing out your garments and stretching them out of shape. Even a trip to the dry cleaners can be rough, so researchers at Hong Kong's City University found an easier, gentler alternative by inventing a self-cleaning cashmere fabric that harnesses the sun to break down dirt and stains.
---
Hunters wear camouflage clothing from head to toe to blend in with their surroundings and sneak up on their prey. But fisherman never do, so Columbia has designed colour-changing shirt with what it's calling a 'Solar Camo' pattern that only appears in the warmth of sunlight, helping anglers avoid being spotted and scaring the fish they're after.
---

Designed for motorcycle riders and cyclists who quickly need to protect themselves from a sudden downpour, the Funnell backpack actually looks useful to anyone who commutes without a car. With a quick tug on a couple of straps, a full-on raincoat deploys from the top of the backpack, keeping both the wearer and the pack itself protected and dry.
---
---
The general rule of thumb is that the older you get, the simpler your Halloween costume becomes. And with yet another Transformers movie hitting theatres this summer, there's no doubt these Optimus Prime and Megatron-themed trucker hats, complete with masks that unfurl, will be a popular choice this October.
---
If you're tired of almost having to completely undress as you're herded like cattle through airport security, there's an entire subset of the clothing industry designed to make that ordeal a little more bearable. Like Hummus Apparel's new line of belts featuring a buckle that can be easily slipped off and dropped in a bin, instead of having to remove your entire belt.
---
With Matthew Broderick out of the picture, and the latest version of the film destroying the box office, it's cool to like Godzilla again. And we all know that the best way to show your appreciation for anything is to wear a hoodie that turns you into a crude facsimile of it — whether it be a gigantic rampaging lizard or a furry co-pilot.
---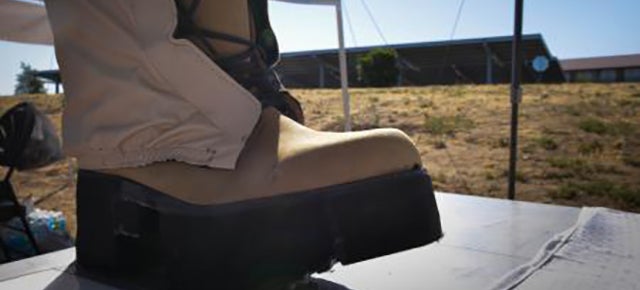 ---