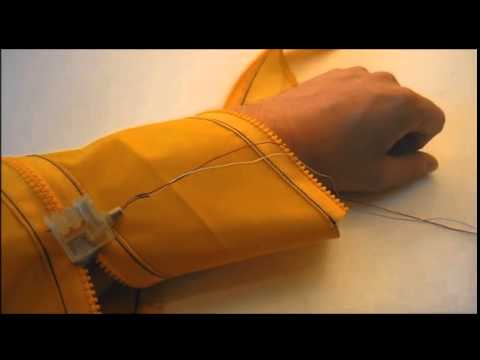 Sneaker freaks have their fingers crossed that Nike will be able to deliver power laces in time for when Back to the Future II predicted we'd all be wearing them. But what about the rest of our clothing? Who wants to be bothered zipping up a jacket when your shoes automatically lace themselves? So Adam Whiton and MIT's Personal Robots Group have already been hard at work developing, and perfecting, automatic zippers.
---
A blazer and jeans is just about the official uniform for stand-up comics with a modicum of success, and to guarantee you keep bringing down the house once you've made it, the folks at Adafruit have put together a tutorial showing you how to make a jacket with a built-in laugh track (and other useful sound effects).
---
=Scientists at Stanford have unveiled a new clothing material made of cotton coated in silver nanowire. This fabric is breathable, lightweight and incredibly warm.
---
In a perfect world every stain and spill would come out of your clothes after just a single wash. But the same way a dish washer works best after you've scraped the plates clean, pre-treating your clothes is the only way to help guarantee a stain comes out. And for homes that are lacking a sink in the laundry room, Samsung's gone and built one right in to its new activewash washing machine.
---
Even if you've watched movies like The Right Stuff, Apollo 13, and Armageddon so often you can recite them by heart, NASA isn't even going to look at your resume if you're not in shape. So start your unofficial astronaut training with this sweatsuit that's printed to look exactly like Neil Armstrong's Apollo 11 spacesuit.
---
In a sense, every piece of clothing uses air to keep you warm: fleece, or wool, or down feathers trap air, and keep your body-generated heat from escaping into the nasty cold outside world. But NuDown's jackets want to take that a step further, giving you an inflatable jacket that's basically like wearing an air mattress.
---
Try as you might to find the ugliest Christmas sweater imaginable, you're not going to be able to top YouTube's bd594's creation this year. It's got an ugly argyle pattern, a tacky Christmas tree, blinking lights, and the pièce de résistance?: a working toy train circling the gaudy creation.
---