Most people would feel they can count on one day comprising the same number of hours, minutes and seconds as the next. But this isn't always the case – June 30 will be a second longer this year with the addition of a leap second, added to reconcile the differences between two definitions of time: one astronomical, the other provided by atomic clocks.
---
Briefly: Of all the exclusive Star Wars Celebration merchandise revealed over the past week, this Salacious Crumb hanging wall clock has to be one of the most unsettling. The character was seen hanging around Jabba the Hutt's palace in Return of the Jedi, and its time-telling doppleganger presumably has moving eyes and a swinging tail like most animated clocks — except this one is just a little creepier than most. OK, a lot creepier. [StarWars.com]
---
It turns out we've all been looking for the wrong features in the perfect alarm clock. Smartphone connectivity? An oversized snooze button? These stop being important once you realise someone has created an alarm clock that can not only be used to order a pizza, it can also count down its arrival at your door.
---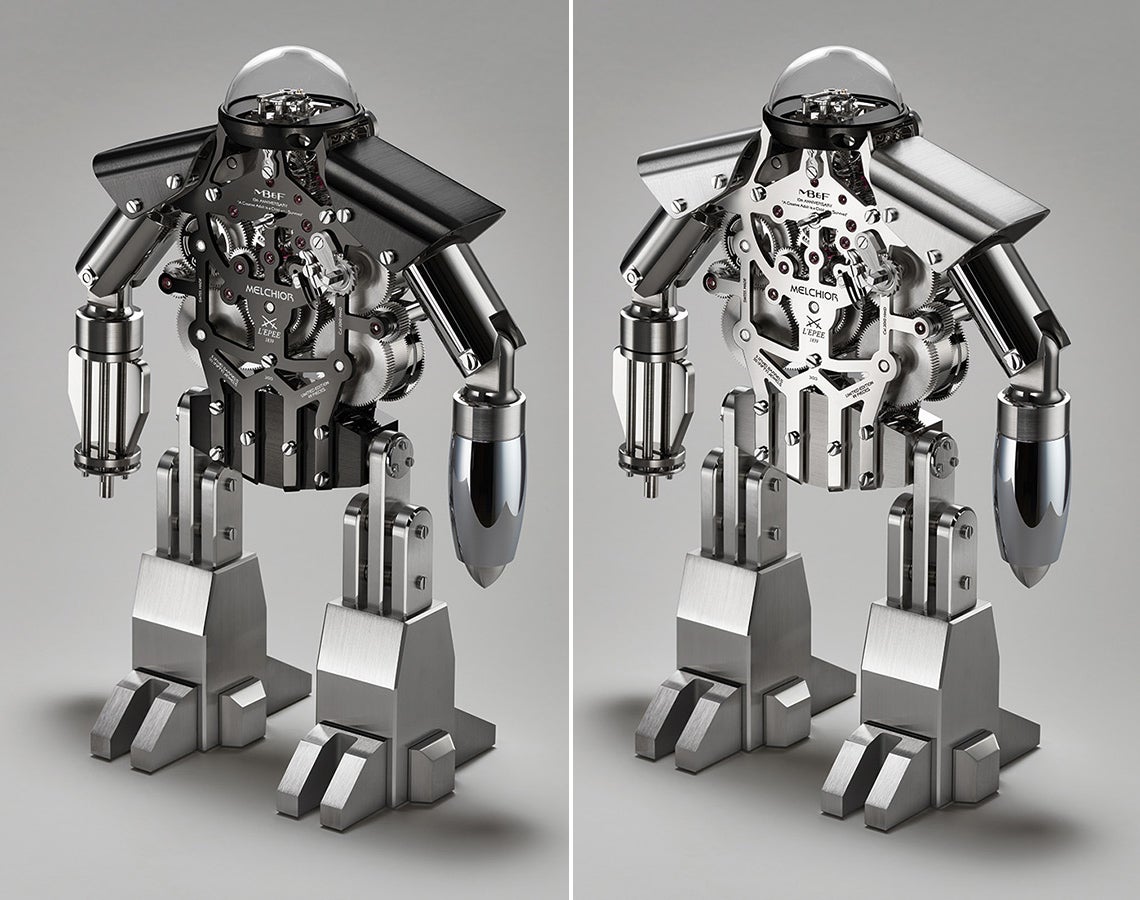 In the world of watchmaking, MB&F has always had a soft spot for creating the occasional mechanical marvel that can't be strapped to a wrist. Such as the company's latest creation, a robot named Melchior that can't vacuum floors, clean windows or open doors, but can keep track of the time while serving as an awesome piece of eye candy on your desk.
---
Maybe the reason you find it so hard to crawl out of bed in the morning is your uninspired alarm clock? Random annoying beeps certainly don't make the thought of facing the day any more appealing, but the sound of Pac-Man desperately trying to chow-down on a pair of terrified blue ghosts? Now that's something to get out of bed for.
---
Though the technology is ludicrously outdated, Nixie tubes have actually remained a popular alternative to LEDs and LCD displays — at least in devices where function follows form. So it's no surprise that MB&F, known for its over-the-top watches and music boxes, has embraced them on its new Nixie Machine clock that people won't be staring at just to read the time.
---
If you've got an extra tab to spare in your browser and a love of graphics or web design, check out this fun online clock that converts the current time into its corresponding six-character colour hex code. The site's background also happens to reflect the current colour value, and over the day it will slowly shift across 16,777,216 shades.
---
With a delivery date of sometime in April 2015, this extra-analogue clock unfortunately isn't going to arrive in time to be the perfect Christmas gift for the mad scientist on your list. But for those with patience and a soft spot for vintage machinery, the AWK-105 Analogue Voltmeter Clock seems like it could be worth waiting for this Kickstarter to reach its funding goal.
---
If you're enamoured with the Qlocktwo's clever word-based approach to displaying the time but not to the point where you're willing to drop $1500 on one, here's a much simpler and cheaper alternative you can build yourself.
---