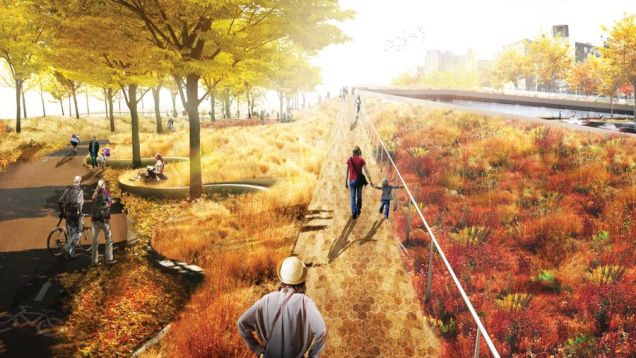 ---
Economic downturn be damned, this pair of spliff-shaped buildings are determined to rise high on the Dubai horizon. While they won't give the Burj Khalifa a run for its money, these twin towers are already being touted as the world's tallest duo. I hope they will be nicknamed the Dubai Brothers. Get it, because Dubai sounds like doobie? Sigh.
---
After months of troubles reported by New York City's bikeshare, it seems that Citi Bike has finally charted a path towards success. It's going to be more expensive, but will offer improved service and more bikes. But here's the change that will make all the difference: Citi Bike will get a new leader — one who used to run the city's transit authority.
---
Imagine taking a scenic gondola tour through Boston's historic Back Bay as Red Sox fans saunter towards Fenway over arched bridges. Not far away, the Charles River Basin is padded by wetlands that soak up the rising sea water. This surreal scene, a sort of Venice in New England, could be the reality in a few years.
---
Video: This beautiful timelapse by Alexander Spirin shows the many contrasts of Moscow. A gorgeous city that mixes classicism and modernity taking it to the extreme. You can start the night at the Bolshoi ballet and finish it two days later stepping out the wildest club you've ever been into.
---
New York sometimes feels like an archipelago of multiple cities — cities, which, unless you have a damn good reason like work or your friend's band, you rarely visit. So for its latest ad campaign, NYC isn't going after out-of-staters. It's going after the lazy locals who never visit any neighborhoods but their own.
---
The threat of a tsunami is a very real thing for much of the Pacific coastline, yet many cities in the US haven't taken specific infrastructural measures to ensure their residents are safe when they happen. A new building in Washington will have the first purpose-built tsunami shelter in the country, offering accessible safety in a second-story room.
---
I like Chicago. The city is clean, the architecture is nice, Wrigley Field is fun, a river cuts through it and the lake is right there. I wanted to make fun of the Bean but it drew me in like a mosquito about to be zapped. And, hey, I realised that I don't really like ketchup when I visited Chicago. It's a nice place.
---