The twisting sidewalks and dizzying density of Brazil's favelas might deter most outsiders from navigating these crowded inner-city neighbourhoods, which informally house about 1.5 million of the country's residents. Yet in the last few months, both Google and Microsoft have both been seen mapping their narrow streets and dirt paths.
---
No one ever lingers on their commute home — at least not on purpose. But photographer Jeff Chien-Hsing Liao has made a career of it by setting up his camera at the busiest, most recognisable places in the city and… waiting. Then, he stitches together dozens of shots into incredibly complex panoramas that capture hours of movement.
---
San Francisco's current tech-led boom has seen slick new housing high-rises pop up all across the grid, but Bay Area urban renewal in the 1970s had a very different look. Photographer Dave Glass is a native of the city's Western Addition, and snapped these images of Victorians being driven around town like massive domestic trailers almost 30 years ago.
---
Ever since he left his post as the ban-happy mayor of New York City, Michael Bloomberg has been very busy taking his urban revitalisation show on the road. Today, his philanthropy announced the winners of his annual Mayors Challenge, with five bright ideas for cities addressing issues from ageing to civic engagement.
---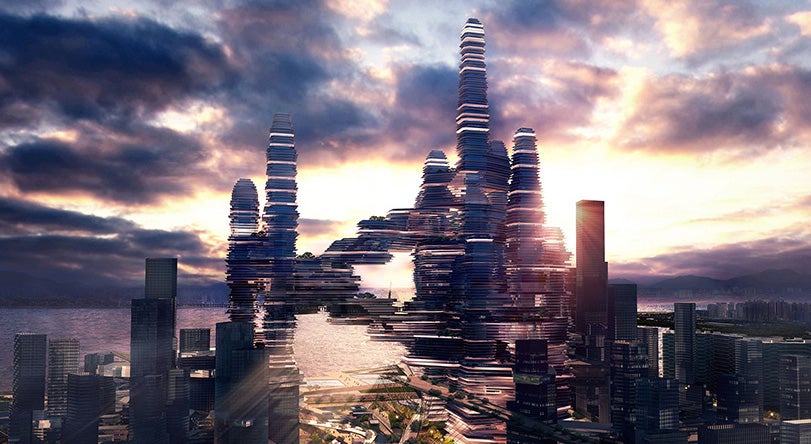 A few years ago, you'd probably never heard of Shenzhen. Now, the tiny Chinese fishing village has grown into a certified megalopolis, with 10 million residents, a thriving tech industry,and a gorgeous world-class airport. To cement its rising status in the world economy, Shenzhen has announced its most ambitious project yet: A green "super city" within the city, complete with what would be the world's second-tallest tower.
---
Since 2011, Honolulu's been busy building a $US5.2 billion solution to help alleviate the mind-blowing traffic congestion that's come to define life on Oahu's South Shore. The Honolulu Rail Transit Project is a 32km, 21-station elevated train — and it will be the first completely driverless rail system in the US.
---
At first glance it seems like just another fun art project, but this dancing traffic light can actually vastly improve safety wherever it's installed. Because people waiting for a 'don't walk' sign to change to 'walk' are far more likely to stick it out when they're distracted and entertained, rather than just try and walk through a red light when they tire of waiting.
---
If you find yourself wander a strange city in the middle of the night, something is probably wrong. But if you stop and take all in, the urban landscape is somewhat surreal at night, when all of the people are sleeping. Photographer Paul Puiia captured that uncanny feeling so well, I don't think I'll ever look at cities the same way.
---
Downtown Seattle is being slowly consumed by Amazon-funded infrastructure, thanks to the expansion of its corporate headquarters — glass domes, bike lanes, streetcar improvements. Now the company has figured out an innovative way to heat their new buildings by using the energy generated by their data centres across the street.
---