Los Angeles's Griffith Park is home to miles of hiking trails, the Hollywood Sign, and at least one mountain lion. Now, suddenly, the park has a teahouse, secretly installed by a group of anonymous artists on a hillside overlooking the city.
---
---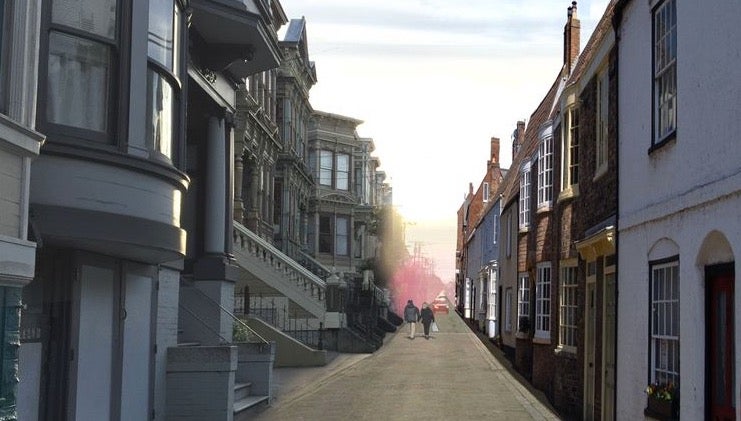 Most American streets are far too wide, which uses up valuable urban space, is dangerous for pedestrians, and actually makes traffic worse. That's why many cities are trying to hand over more street space to transit, biking and walking. But what if we took the lanes devoted to cars and turned it into housing? It sounds crazy, but this idea actually makes a lot of sense.
---
The concept of "smart cities" seems like a contemporary urbanism trend. But as early as the 1960s, cities were using technology to gather, interpret, and visualise civic data. Here's how a 1974 report by Los Angeles's Community Analysis Bureau used computer databases, cluster analysis, and infrared aerial photography to help them to make decisions about policy.
---
Satellite imagery has become a part of our daily digital lives; we use stills of our planet to navigate to the mall, for goodness sake. But when those images are moving, the result is so stunning that it's almost magical. UrtheCast has released the first full-colour HD video of Earth shot from the International Space Station. And it's just freaking gorgeous.
---
Last time we checked in with the Nordstrom Tower, a superskinny supertall going up in Midtown Manhattan, a sneaky spire had been added to make it a hair taller than the tallest spire at the World Trade Center. Now, new documents show another stealth move: The actual roof height will be taller than previously planned — taller than the current tallest US building, the Willis Tower.
---
Getting a building approved by the public is tough — a few strong voices in the neighbourhood could easily bring down the entire process. To win the public over, designer Karim Rashid turned to his Facebook page, asking his over 421,000 fans to vote on which concept for a new building they liked best.
---
On Friday, California passed its deepest water cuts yet, the state's latest attempt to conserve a dwindling resource in a region crippled by drought. Yet there remains a small group of people in states throughout the West who continue to flagrantly waste water. Yes, on purpose. And it's not just the wealthy.
---
Let's face it, garbage humans are everywhere — and that doesn't even include the dude having a VR experience in the subway seat next to you. Here are the most obnoxious people you'll probably run into on a public transport system near you.
---