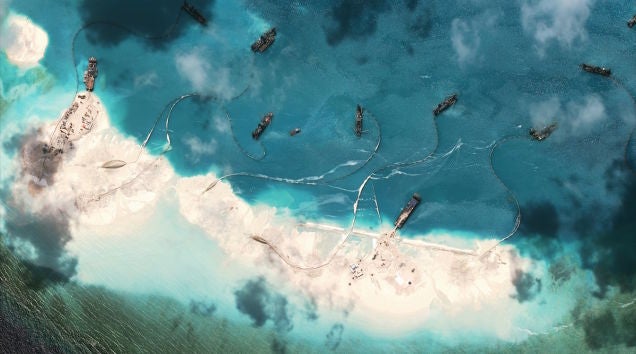 It's been more than a year since we first started following China's project to build artificial islands in contested areas of the South China Sea, setting off what could properly be called a diplomatic shit storm. Today, China reassured the world that it's almost done, alright?
---
This is a bad week to be a federal employee, and it just got worse. The AP is reporting a second brutal cyberattack on the US federal government, carried out by the same hackers who reportedly accessed the records of every single federal employee. This second hack focused on grabbing extremely personal dossiers from intelligence and military personnel.
---
Remember when hackers accessed files from US health insurance firms Anthem and Premera last year? According to the New York Times, it was the same Chinese hackers suspected of breaching the US Office of Personnel Management's files.
--- I don't believe that Chinese food should always be eaten with chopsticks but it sure makes it fun. Or at least, strapping a GoPro onto a pair of chopsticks makes it look fun, especially when you delve into some of the funkier looking dishes. Anne-Sophie Bazard filmed her and her friends touring Beijing and eating with the GoPro chopsticks and came away with this footage.
---
Not content with building massive new dams, railroads, and cities inside its own borders, China is backing hugely ambitious infrastructure projects all over the world. Its latest is a 3,000-mile long railway that will cut through vast swathes of the Amazon rainforest.
---
You'll want to read the rest of this post with your eyes shut if you have even the remotest fear of heights: This is the world's longest skywalk, which recently opened in China. The skywalk allows crazy people to walk 27m off a cliff for spectacular vomit-inducing views. Don't worry, it's only about 800m down to the valley floor.
---
Video: The background: China's president Xi Jinping was visiting Pakistan, so Pakistan sent eight JF-17 Thunder fighter jets to escort China's presidential plane when it entered Pakistani air space in a nice diplomatic gesture. The cool: I just like seeing small little fighter jets trailing a big jet in a flying-V pattern.
---