The days of having to wire up a complete replacement outlet to add a USB charging port will soon be long gone. The same folks behind the SnapRays Guidelight, a replacement cover that added night lights to almost any outlet in your home without wiring, is back with an even better product. Their new SnapPower Charger cover can be installed on any outlet, but instead of lights it adds a USB port for charging your electronics.
---
Hand crank-powered torches and radios for weather emergencies are nothing new, but what about when your smartphone dies in the middle of the day? That's just as dire an emergency, and it's inspired the creation of this smartphone case with a built-in charger and pop-up crank that can, at least in theory, keep your phone powered for as long as you're alive to use it.
---
It's not uncommon to bum a smoke, a ride or a piece of gum from a friend, but if a new Indiegogo campaign is successful, you might soon be able to bum a little bit of power for your phone as well. The Juicer is a simple double-headed microUSB cable that lets you transfer power from one tablet or smartphone directly to another.
---
Unless you're heading out to shoot for National Geographic, you don't want to leave the house with a giant over-stuffed camera bag hanging off your shoulder. Everything you bring has to play a crucial role for your photography outing. Or, better yet, two crucial roles like this padded camera bag divider with a 3000 mAh battery hidden away inside.
---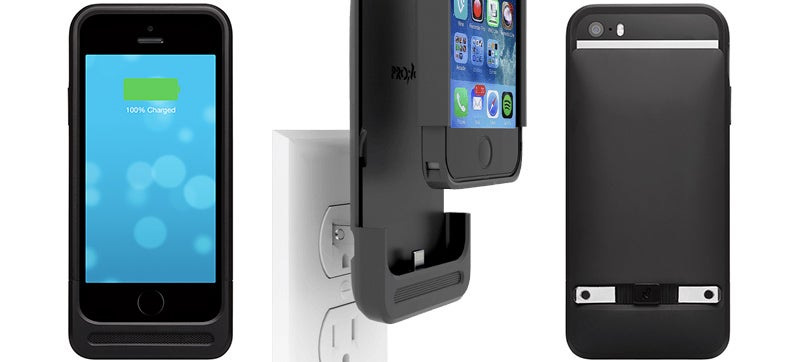 ---
Remember the ChargerLeash? It was a replacement USB charging cable for your smartphone that featured a built-in audible alarm so that when it was unplugged, there was little chance you'd forget it and leave it behind. Now there's a new 'Pro' version with a simple silencer so you can also use the cable at home, without the alarm constantly going off.
---
Amidst all the fist-pumping and Bono-goofing yesterday, one piece of information was conspicuously absent: The Apple Watch's battery life. What's the point of strapping a tiny computer to your body if it needs constant charging? According to Re/code, even Apple hasn't quite figured out the battery dilemma yet.
---
It's not uncommon to leave the house with a bag full of gadgets that will probably need a charge at some point during the day. So you can either bring an assortment of cables with you, let your devices all fight over a single charger, or wait until Samsung's new three-headed micro USB charging cable is finally available.
---