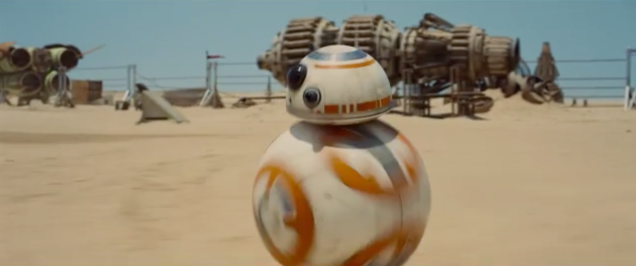 Perhaps the best part about the new Star Wars trailer was seeing BB-8, the adorable rolling ball robot in the new Star Wars movie, bounce and roll itself across the screen. It looked so familiar and so cute and so perfect as the new movie's answer to R2-D2. And the best thing about it? BB-8 is a real robot and not CGI.
---
The hopes and dreams of your childhood are getting reignited when The Little Prince comes to theatres next year. Here's the first trailer, which is in French, but still somehow as universal as ever.
---
If you've seen Interstellar, then you know that the best characters are the wise-cracking robots. Unassumingly boxy and faceless, they somehow end up stealing the show. Wired has a fascinating behind-the-scenes look on bringing the robots to life — largely without the help of CGI. Minor spoilers ahead.
---
This ad was made by Elastic for League of Legends (a game of which half the world plays and half the world doesn't know exists) but really, it's just phenomenal animation work. I love seeing the marionettes move around and interact with the environment, it really feels like they're on strings.
---
Video: This branded short film follows the journey of a single piece of wool in pursuit of its family. The creators — London-based studio Neon — did such a great job with it that I ended up empathising with the poor piece of fleece and seriously caring for its life.
---
Video: Despite being four years old, this 60-second spot for a brand of kitchen countertops is still some of the best, most realistic 3D I've ever seen. It's not only the perfect produce falling in slow motion — it's everything. The ink drops, the bits of quartz, the stones, the gas, the vitroceramic. Everything.
---
I must be a horrible person because I howled so hard when I saw this CGI footage by Dave Fothergill that shows computer-generated people falling down over and over again as they get swept around by a swinging metal fence. Don't get me wrong, I'm rooting for these clumsy CGI folk to make it through, but I'm laughing at them too.
--- Video: When I first saw this ad, I spent a while scratching my head wondering how could they train an orangutan to do the stuff this one does. After digging a bit into it, I learnt that they didn't trained it at all. It was entirely made with CGI by The Mill, one of the best postproduction houses on the planet.
---