For as advanced and as lifelike as CGI effects have become over the last decade, physical props are still the bedrock of modern special effects — especially in movies about a guy in a robotic suit. Gizmodo recently sat down with two of Iron Man 3's effects masters, Shane Patrick Mahan and Lindsay MacGowan of Legacy Effects, who have worked on the groundbreaking effects of classic films like Terminator 2, Avatar and Monster Squad, as well as Chris Townsend, the film's Visual Effects Supervisor, to find out how much of Iron Man is really real. SPOILERS AHEAD!
---
Life of Pi may have proved a massive success with its captivating storyline and combination of live action and Oscar-winning visual effects. But there's plenty wrong with the film besides the idea of being stranded on a lifeboat with a tiger.
---
Researchers at the Max Planck Institute for Informatics in Saarbrücken have developed a new type of motion capture system that doesn't require the live action performers to wear those skintight body suits covered in cumbersome tracking markers. And the typical 360-degree array of infrared sensors capturing their movements can be reduced to just a handful of strategically placed video cameras.
---
---
New tumblr alert: Before VFX. It's a revealing collection of pictures that show what movies look like before any sort of visual effects are added. This basically means it makes every movie, even Oscar-worthy movies, look completely ridiculous. The magic of the movies!
---
There is no doubt that the visual effects (VFX) crisis affecting the film industry right now is going to have an enormous impact on how movies are made in the future. We're just not sure how long it's going to take and what that solution looks like just yet. Here's an insight into the problems plaguing the film industry, what life is like as a VFX artist, and the Oscars controversy that pushed the whole thing over the edge.
---
Almost a third of The Avengers may have been set in New York, but as this video from Industrial Light & Magic's YouTube channel shows us, hardly any of the filming took place in the Big Apple itself. Since actually filming in New York would have been difficult — what with the many road-blocking restrictions and the city generally looking down on setting their streets and/or citizens on fire — almost everything had to be digitally recreated.
---
Looper was a great movie — and in this video called Atomic Fiction, the special effects studio behind the movie, shows off how it created the stunning cityscapes that feature in the film.
---
Forget Beyoncé at the Super Bowl, this is the best-looking thing you will see all day. It's also going to be the most moving, tragic, beautiful and meaningful four minutes of your week. It's called Stardust, and it's well worth your time.
---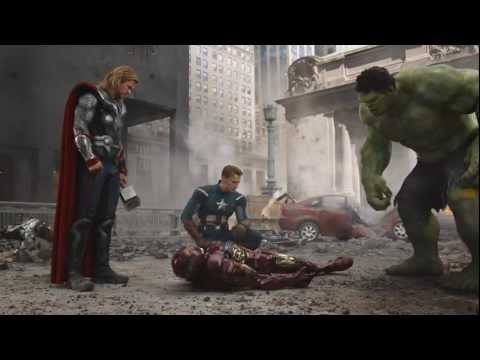 Industrial Light and Magic has been in the visual effects game since the original Star Wars. And if you need any further proof that they're still one of the top FX shops on the planet, here's another look at the work they did to bring the Hulk to life in The Avengers.
---