The Large Hadron Collider certainly lives up to its name: the underground behemoth is nearly 27km in circumference. Oh, and it also helped scientists discover the Higgs Boson, no big deal. But those crazy scientists always want more, which is why CERN, the particle physics group behind LHC, wants to build it a big brother that's over three times the LHC's circumference.
---
Before the world wide web was a twinkle in Tim Berners Lee's eye, CERN had developed the Grid — a world-spanning network of computing power to help drive the progress of physics.
---
You hear about the Higgs-Boson all the time, but do you know what it is? If the answer is no, fear not: It's complex and confusing. Luckily, the New York Times has a beautiful, animated explainer to break it down for you in layman's terms. [New York Times]
---
---
Google Street View is a great way to explore parts of the world you've never visited. And thanks to Google's European team, it's now one of the easiest ways to explore a facility you're not exactly allowed to just stroll through whenever you want. Google's panoramic cameras were given access to CERN's Large Hadron Collider, letting anyone poke around the gigantic machinery and the facility's endless network of tunnels.
---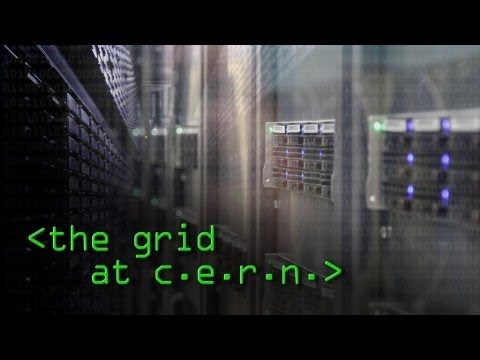 Given how much data the scientists at CERN have to crunch through, it's not surprising that it take its computing power seriously. This video takes a look inside the massive computer centre that allows the magic to happen.
---
Antimatter, the evil-twin-like opposite to every particle in the universe, is pretty wild stuff. While in the sci-fi world it powers warp drives, here in the frustrating confines of reality we still haven't figured out how to harness it. But thanks to some mad scientists at the Large Hadron Collider, now we know what antimatter sounds like. Sorta.
---
For the past five years, the mad scientists at CERN have been connecting their computers to colleagues' around the world to pool their processing power. This so-called Worldwide Grid turns a regular old desktop into a supercomputer by just plugging in. Now it will do the same with smartphones and tablets.
---
Just because Cern researchers discovered the Higgs Boson particle last year doesn't mean it's time to close up shop on the biggest scientific instrument humanity ever created. Instead, the scientific community has plans to upgrade and retrofit the Large Hadron Collider with bigger, better, and more powerful systems over the next decade — like the US LHC Accelerator Program's (LARP) new interaction region quadrupole magnets (IRQM) that will help tease every last one of the Higgs-Boson's secrets.
---