After restarting to run at higher power than ever, the Large Hadron Collider has made its first proper discovery. Today, a team of scientists announced that they have found a new class of sub-atomic particles known as pentaquarks.
---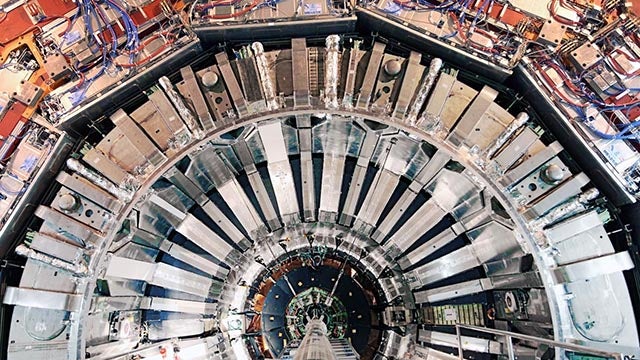 Scientists at the Large Hadron Collider have just announced the detection of a rare particle decay "harder to find than the famous Higgs particle". The strange B meson is certainly a lot less famous than the Higgs boson, but it also has an important role to play in the Standard Model of particle physics.
---
Symmetry is a dance and opera film that was directed by Ruben van Leer and was shot inside the CERN Large Hadron Collider. It looks pretty epic and totally intriguing with some scenes feeling a little bit like Interstellar. The film will premiere on March 15 in Amsterdam.
---
Everyone's favourite mega-machine, the Large Hadron Collider at CERN, is meant to help humans some of the most basic questions about the nature of our world. How it goes about this is — in a word — complex. But part of it involves a bit of good old-fashioned (kind of) photography.
---
CERN is pimping some images of its newly renovated Large Hadron Collider today. It's an exciting upgrade for particle physics, but it also reminds me of the very first time CERN pimped some images on the web. In fact, CERN scientists pimped the very first image on the web nearly a quarter century ago.
---
What do art and high-energy physics have in common? Quite a bit, if you think about it: Space, time and the structure of the visible and invisible world, for starters. That's why CERN has spent the past four years inviting artists into its headquarters, and why, for the first time, it's now inviting an architect to stay.
---
At the Large Hadron Collider, some serious science goes down. So serious, in fact, that the facility plans to ratchet up its data collection to the point where it's creating a staggering 400PB of data every year.
---
I have visited CERN and they have sections of the accelerator you can look at. It's a mess — to you and me — wires and tubes. This has not been built for consumers. There's no pink model; there will not be a thinner and lighter 2.0; and Nike is not sponsoring a limited edition line. In other words — no safety measures in place for rogue urinators.
---