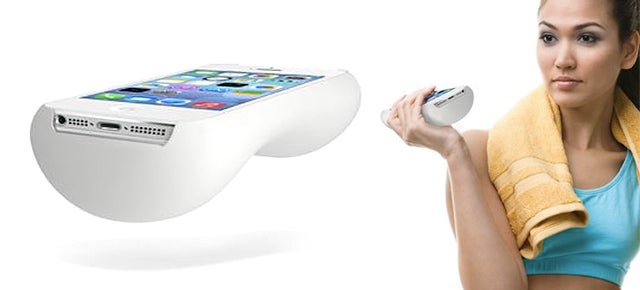 What if every call you answered, every text you sent, and every Facebook status update you posted actually worked to improve your fitness? It's kind of a ridiculous notion, but the ToneFone — which is basically the heaviest case you'll ever slap on your iPhone — promises just that.
---
A flip-style case will protect all the parts of your expensive smartphone — from the housing to the display — but at the cost of making you a little slower on the draw when it comes to answering a call. So to solve this 'problem' Moshi has created the SenseCover case which features a touch-sensitive strip on the outside letting you swipe to answer a call without having to open its cover.
---
When it comes to properly spreading holiday cheer, an ugly Christmas sweater just isn't enough anymore. You have to up your game, and nothing guarantees gamesupmanship like floating around your office holiday party brandishing these festive light-up iPhone cases. They're not only a classy way to protect your device, they also don't require their own power or light source.
---
Organisation is almost an art form — and let's face it — not everyone's an artist. If your suitcase and toiletry bag tend to slowly (or quickly) devolve into a homogenous nest of clothing and travel accoutrements, you'll appreciate what the Lay-n-Go has to offer. Specifically: an easy way to keep your toiletries separate without having to reorganise them when it's time to go.
---
As long as you're cool with a little extra bulk on your device, it looks like Honda has created a smartphone case like the one Jeff Bezos was dreaming of. It virtually guarantees your device will survive any fall — and possibly even a head-on collision with a truck.
---
The iPhone 5s may have a fancy new dual-LED flash, but it ultimately doesn't make that much difference. Low-light pictures continue to be the bane of the phone photographer's existence, and every blurry, noisy and/or blown-out shot from a dimly lit bar is a painful reminder. This new case from Brick and Pixel called the Lightstrap might just change that.
---
Most smartphone cases strive to provide as much protection for your device as possible without adding too much bulk or extra weight. But that's not the approach Bandai has taken with this monstrosity. Squarely targeted at die-hard Batman fans, this case is a perfect replica of the Tumbler Batmobile featured in Christopher Nolan's films, but designed to protect your iPhone — not the Dark Knight.
---
The laptop has made it possible for us to work almost anywhere on earth; from the cramped quarters of a plane seat, to a relaxing beach. But away from the privacy of your office, you often want to keep prying eyes off your screen, which is why this No. 1 leather laptop bag from La Fonction is so brilliant. It transforms into a tiny mobile cubicle, letting you work with adequate privacy no matter where you set up your temporary office.
---
Cramming as much clothing as you can into as small a suitcase as possible is a fine art. And with Outlier's new Doublebag, now any traveller can be a Michelangelo of packing. It not only lets you compress your clothing for maximum capacity, it also doubles as a laundry bag that keeps your smelly worn garments quarantined from the clean.
---