Video: Everyone loves Lego bricks. Everyone loves gummy bears. So why not combine the two to make gummy Lego bricks that you can eat and build stuff with? Grant Thompson shows you how a few simple ingredients and a little bit of creativity can make fun gummy Lego bricks that are both better than gummy bears and Lego bricks by themselves.
---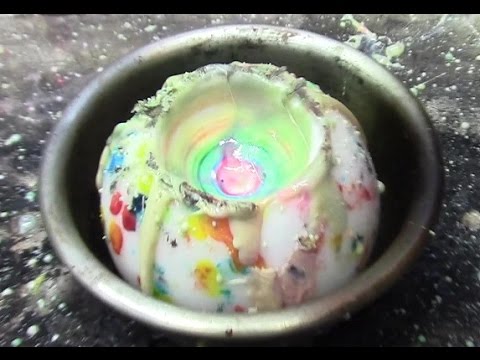 Video: My favourite foe for the vaunted red hot nickel ball is food items. The bigger and more ridiculous and goofier the food, the better the destruction. Take this burning of a giant jawbreaker; it crushes the exterior and then starts boiling and bubbling the gooey green innards. It's like alien candy blood leaking out.
---
I don't see anything excessive about this at all. Instead, I see a chocolate fountain I'd like to install at my house. I now crave a giant chocolate Easter egg I could spend 40 days and 40 nights eating. And I want every meal I eat to be put together by these joy givers who artfully assemble this humungous giant-sized snack.
--- Lollyphile's new beer lollipops are many things: the epitome of human innovation, the height of candy science, and unfortunately, alcohol-free. But how do they do it and — more importantly — how do they taste? We talked to Lollyphile founder Jason Darling (and tried 'em for ourselves) to find out.
---
Candy company Lollyphile has given us quite a few less-than-appetising suckables in the past (blue cheese or breast milk lollipop, anyone?), but their newest creation comes at the request of the masses. Your beer-flavoured lollipop has arrived.
---
Normally, you wouldn't want to have a cannon aimed at your face, much less a cannon that can see your face and follow it around. But a team of mechanical and electrical engineering students at Olin College decided to challenge that notion with their marshmallow-firing Confectionary Cannon. It's worth getting in this sucker's sights.
---