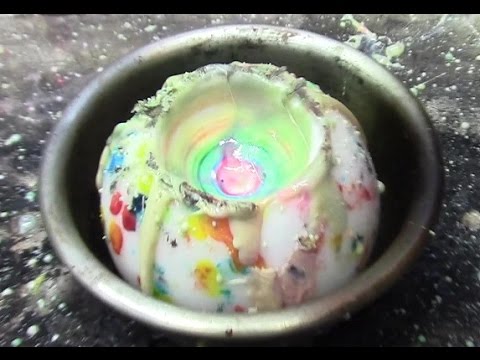 Video: My favourite foe for the vaunted red hot nickel ball is food items. The bigger and more ridiculous and goofier the food, the better the destruction. Take this burning of a giant jawbreaker; it crushes the exterior and then starts boiling and bubbling the gooey green innards. It's like alien candy blood leaking out.
---
I don't see anything excessive about this at all. Instead, I see a chocolate fountain I'd like to install at my house. I now crave a giant chocolate Easter egg I could spend 40 days and 40 nights eating. And I want every meal I eat to be put together by these joy givers who artfully assemble this humungous giant-sized snack.
--- Lollyphile's new beer lollipops are many things: the epitome of human innovation, the height of candy science, and unfortunately, alcohol-free. But how do they do it and — more importantly — how do they taste? We talked to Lollyphile founder Jason Darling (and tried 'em for ourselves) to find out.
---
Candy company Lollyphile has given us quite a few less-than-appetising suckables in the past (blue cheese or breast milk lollipop, anyone?), but their newest creation comes at the request of the masses. Your beer-flavoured lollipop has arrived.
---
Normally, you wouldn't want to have a cannon aimed at your face, much less a cannon that can see your face and follow it around. But a team of mechanical and electrical engineering students at Olin College decided to challenge that notion with their marshmallow-firing Confectionary Cannon. It's worth getting in this sucker's sights.
---
Chemical fires are usually bad, but when they're intentional, controlled and consuming weird Christmas/Santa ring pops they're easy to endorse.
---
Here's a question I'm not sure I want to know the answer for: if Skittles and M&M's came in individual packets for each flavour, would I combine them and eat them like how I do now (in a pile shoved into my mouth) or would I keep the flavours separate and enjoy them on their own? They might be better on their own.
---